The whopping $229 million Bamia Drive, at Amelia's Ward, Linden, was officially commissioned on Saturday by Public Works Minister Juan Edghill.
This is the first of five major roads that are under construction and rehabilitation in Region 10 (Upper Demerara-Berbice). The construction of the road was a collaboration among the Public Works, Local Government and Regional Development, and Housing and Water Ministries.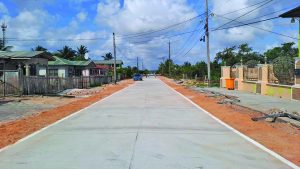 A change from the usual asphalted roads, the new 18-foot-wide concrete road is the only solution to Amelia's Ward's drainage issue with the materials more likely to hold up for much longer against heavy rainfall and water flow.
"Amelia's Ward never really had any drainage network in terms of building adequate drainage and because of the layout and the nature of the soil, when we have heavy rainfall and water flow, we get washaways and we had to find a solution…as we seek to establish and develop a drainage network," Edghill related during the commissioning ceremony.
Further, he added that the roads that are being constructed in the mining town are done in phases.
"We must acknowledge that development comes in stages," Edghill said. "Now that we have done Phase 1 and we have access, we will need to come back and carry out phase 2 to carry the road further in while we [complete] other roads and connectivity."
He also appealed to residents and road users to be mindful of their driving practices and to follow road safety protocols.
"These are community roads, people are going to be living in these areas, children will be playing in their yards… so users have to be more careful and stop the speeding."
"We're not building roads to kill people. We're building roads to develop the community and we need responsible behaviour and responsible action from the users of the roads."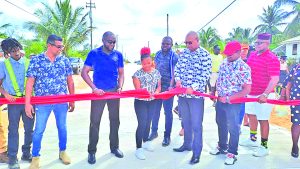 Bamia Drive is among a number of other road projects underway in Region 10, including the 122km road from Linden to Mabura which has thus far employed over 100 residents within the region.
"In our programme of bringing development to Linden, job creation is heavy on our minds. A lot of people who worked on these roads are people right from the community because these kinds of roads don't require so many specialised operators and you could get a labour-intensive environment."
In addition to ongoing works, back in August 2022, Government awarded approximately $800 million in infrastructural projects to rehabilitate a number of roads across Region 10.
This is in keeping with the PPP/C Administration's manifesto commitment to improve the quality of community roads and implement an Urban Improvement programme countrywide.