The Public Health Ministry on Friday hosted its first Public Day activity for 2019 which saw many persons capitalising on the opportunity to inquire about several aspects of the public health system at the Ministry's Brickdam headquarters where the event was held.
Adding to that, persons benefitted from access to information, the scheduling of appointments with doctors and in some cases, financial assistance for their medical needs.
In fact, Clinical and Regional Programme Coordinator at the Public Health Ministry, Caroline Hicks explained that some individuals who are in need of surgeries received financial assistance.
In giving a synopsis of the day's activities, Hicks explained, "We set aside to do a little public day in which we will be seeing staff and people from the public on any issues. Some might be concerning their work because health is extended in different departments. Persons may come about some medical issues and if they're having difficulties seeing doctors and so on."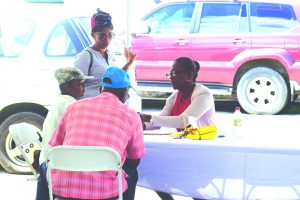 She indicated that some persons were registered so that they can be provided with a doctor's appointment in the near future. For those who require complicated operations and surgical procedures, provisions were made for them to seek help overseas in the form of financial support.
"We're registering persons so that we'll be able to see if we can schedule another date for them. We have a section for the nurses and the medical personnel. We're addressing persons that want scholarships in the public health sector and also a team to address management issues.
If persons are scheduled to do surgeries or any other intervention and we cannot do it here in Guyana, we give financial assistance so that they can get it corrected," said Hicks.
She informed that the Ministry intends to roll out several more public day initiatives this year. According to Hicks, the activity provides an opportunity for the Ministry's officials to connect with the public, and for the public to be informed about developments in the health sector.
"This is the first for the year. We had a few last year and we're expecting to do many more because…we get to understand more of what is happening."
For the first half of the day, some 200 persons received support.