…says Govt making necessary investments in human resource, tech
…as Dr Balwant Singh Hospital launches Histopathology Lab, 128 Slice CT scanner
Acknowledging the importance of a worldclass healthcare system in the overall development of a country, President Dr Irfaan Ali has assured that his People's Progressive Party/Civic (PPP/C) Government is working hard to ensure public hospitals can offer services on par with private hospitals.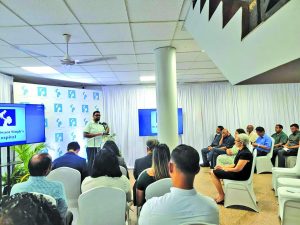 The President gave this assurance during the launch of a Histopathology Lab & 128 Slice CT scanner at Dr Balwant Singh Hospital on Saturday. The lab will, among other things, be used to prepare tissue samples for analysis by the specialists. It features non-touch controls and disposal of tissue. President Ali noted that this investment adds value to Guyana's healthcare.
"I value this investment being made here. I value this move to modernise our healthcare system. And I understand how it interplays with our overall healthcare plan and development of the overall healthcare system, to deliver better healthcare to the people of our country," President Ali said.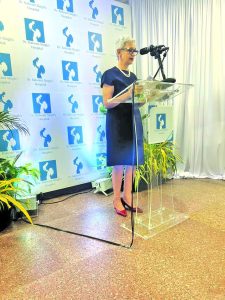 "We have made it very clear that the revenues from oil and gas must do a few things. One, it must give our people the best possible education… whether it's auditing services, whether it's outsourcing services, medical services, telemedicine, we're going to build a telemedicine service that the entire Region can rely on. And the second is healthcare."
According to the President, one of the reasons many people migrate is due to an inadequate healthcare. He noted that this is something the Government is intent on changing, since persons put a value on healthcare that is both quality and affordable. He emphasised that the Government is intent on ensuring that the public healthcare system keeps pace.
"The public healthcare system in Guyana must complement the private healthcare system. It's not running on two different tracks. This is what we must get accustomed to. And that is why we have Mount Sinai here, helping us to examine fully the whole health ecosystem and then differentiate what public should do for us and how does it integrate into private healthcare."
"Public healthcare must be able to deliver efficiently and in a reliable manner… the healthcare system must respond to people at the grassroots. It must give them access and opportunity to view health as something important and not use sickness as the reason for good health. In our country you don't go to the doctor unless you're sick."
When it comes to the enabling environment created by the Government for the private healthcare system to thrive, President Ali noted that the Histopathology Lab bears witness to the wisdom in this approach.
"When we speak of healthcare system, its public and private. The role of the Government is to facilitate growth and development. To put the programmes and policies in place to enable the private sector and citizens to make investments in response to those policies. And here is an example of the private sector responding, again, to the policy agenda of the Government."
Advances in the healthcare system in Guyana have been galloping along. Just last month, the Woodlands Hospital launched its stem cell services and immunotherapy – becoming the first in the country to offer such ground-breaking medical technology to the population. At the time, President Ali had made a commitment that by 2030, Guyana will offer healthcare services that are internationally recognised.
"In the next seven years, we are not trying to, by the grace and help of God, in the next seven years we are building in Guyana, a first world healthcare system for our citizens and a healthcare system that is fit for purpose and one that will provide global healthcare services for the rest of the world. Mark this night," the Guyanese leader had declared.
"There is no rest in this sector in getting it to where we want to be."
Moreover, he said as more and more innovations take place in the sector, he called in financial and medical specialists as well as policymakers to start discussions on modern health insurance plans.
He had also announced the forthcoming establishment of a National Medical Scientific Council. This council, President Ali had noted, would bring the country's best medical talent to investigate "not old technology but the best-in-class medical science development that can be applied in Guyana to help us here". (G3)