President Dr Irfaan Ali on Friday evening reiterated the strong bilateral relations that Guyana shares with the United States, telling a bipartisan congressional delegation that his Government is committed to upholding this partnership.
"You are a trusted partner. I want to make this clear… you are a trusted partner. You are our partner. We are proud of our partnership and we are going to work together to make Guyana and the US stronger together," the Head of State said at a reception hosted by at the US Ambassador's residence in Georgetown in honour of the visiting seven-member US congressional delegation.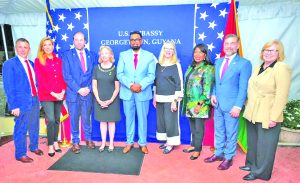 The team, headed by Chairman of the House Committee on Ways and Means, Congressman Jason Smith, included Congresswoman Terri Sewell, Congresswoman Carol Miller, Congresswoman Michelle Fischbach, Congresswoman Beth Van Duyne, Congressman Mike Carey, and Congressman Kelly Armstrong.
They arrived in Georgetown on Thursday evening with an agenda to meet with Government officials and Opposition leaders to discuss issues related to governance, economic matters, and the importance of bipartisan cooperation.
Earlier on Friday, President Ali and his Cabinet colleagues hosted the congressional delegation for a State Lunch during which a number of priority areas were discussed.
"We had the distinct pleasure of examining different issues and challenges. We spoke about our experiences in housing. We spoke about the model in Singapore. We spoke about how we can advance the transformation – human resource transformation, and ensure that the human resource transformation is linked to the infrastructure transformation, healthcare, education. But importantly, we said [on Friday] that our mission is to catalyse the revenues from oil and gas to position Guyana to function in a world 2030 and beyond that will be very, very different – ensuring that we're sustainable, ensuring that we're resilient and ensure, most importantly, that we're competitive."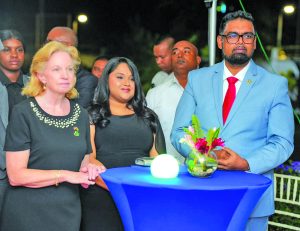 "For us to be a viable state, we must be able to be competitive and that's what we're investing in [and] applying the technology that is applicable for a world in the future, today because we cannot do this in a straight-line fashion. We don't have the luxury of time to do that… I even ask the congressional delegation to ensure that Guyana and the US can advance the strategic partnership formally on energy security for the United States and Guyana, and on climate security and on food security," the Guyanese leader posited.
He went on to say that Friday's meeting between the Guyana Government and US House Committee Members reinforced the values of the two nations. These values, the President added, are geared towards producing the best for the people of both countries, in terms of democracy and regional and global leadership.
Opportunities available
The Head of State also highlighted the opportunities available for US participation – at both the Government and private sector level – in Guyana's economy that is on the cusp of unprecedented transformation.
"Let me assure you that our relationship with the United States is based on principles. It is based on a value system that we share. It is based on respect, and you have nothing to fear. Guyana is and will continue to be an important strategic partner of the United States and the opportunities here are open to all – open to the United States and your private sector, and we want to see greater participation from the US private and the US here in Guyana… This is a clear strategy of the Government," President Ali stated.