– demands CXC "fix those grades", or be removed
– intends to pursue matter as far as CCJ
Guyana's leading secondary school, Queen's College (QC), has threatened to file an injunction against the Caribbean Examination Council (CXC) to block the declaration of what it deems "fraudulent" results released on Tuesday for the Caribbean Secondary Education Certificate (CSEC) and Caribbean Advanced Proficiency Examinations (CAPE).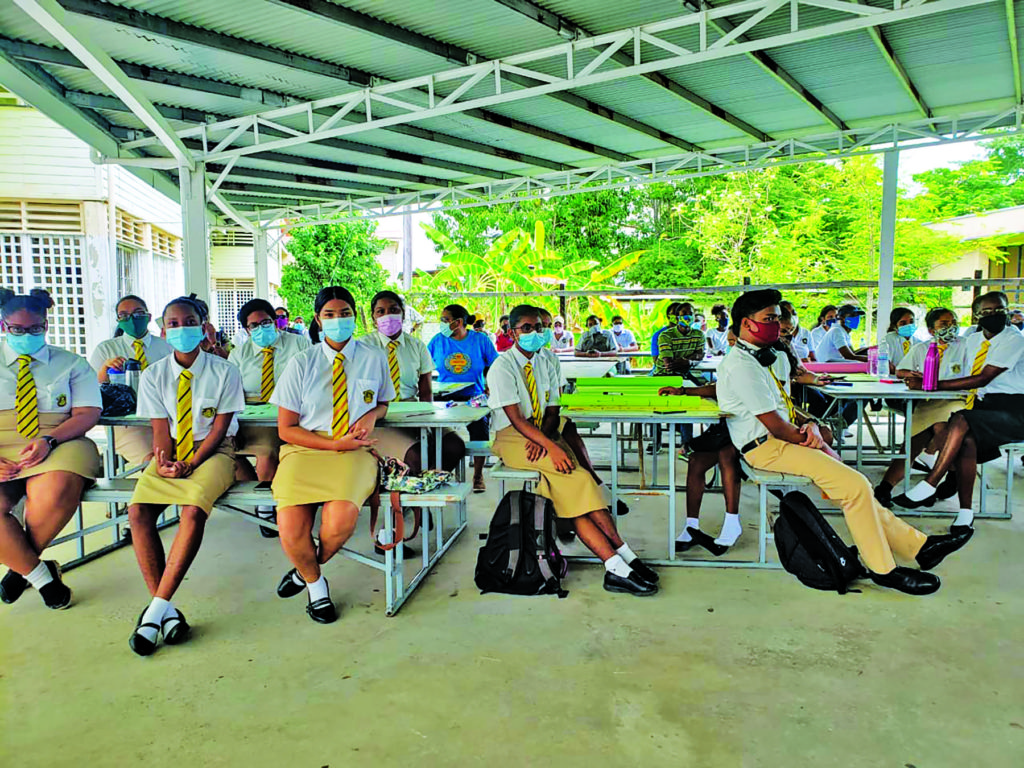 This was echoed on Thursday at a press conference where the school's principal, Jackie Ralph, made it clear that she is not prepared to accept the inaccurate results released by the regional examination body, and intends to pursue the matter as far as seeking recourse at the Caribbean Court of Justice (CCJ).
Due to the COVID-19 pandemic, this year's examinations did not consist of the traditional Paper Two. Instead, students were graded using Paper One and their School Based Assessments (SBAs). Despite this, students were still required to pay the fees usually charged for the normal examinations, consisting of Papers One and Two and Paper Three in some instances.
In fact, Ralph said, "We have already consulted a lawyer. Our intention is to ensure that we file an injunction to block the declaration of the results. We have, over the years, tracked our students' performances, and what I can say to you is that we know our students have not received the expected grades that we have predicted. We are not prepared to accept the position that CXC has taken, and we intend to pursue this matter vigorously with the view to salvage whatever they have done to destroy our students' mental and emotional capacity."
Ralph, who has been at the helm of the school for the past seven years, said she is distraught and has been having sleepless nights. She, nevertheless, stated that she will continue to engage her students, their parents, the rest of her colleagues, and Education Minister Priya Manickchand with the view to having the many discrepancies and disparities in the grades resolved within the soonest possible time.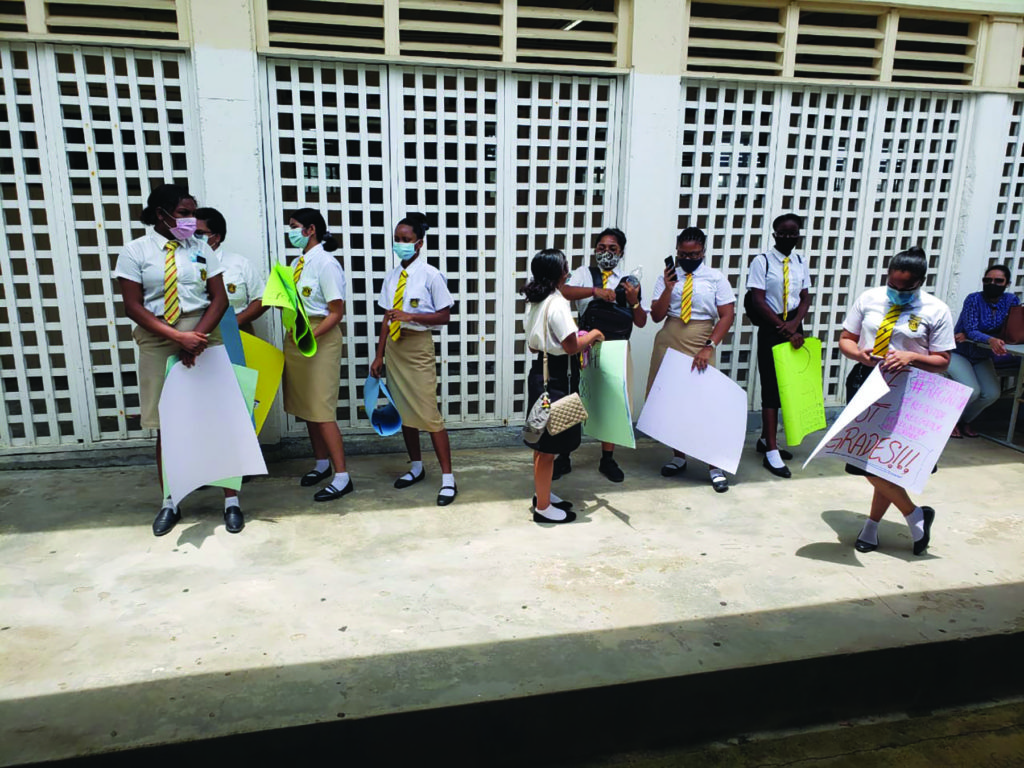 "We have been able to engage our parents and some of our students with the view to capture data that will build our case. So far, we have over 100 cases that were brought to the fore. I must make it pellucidly clear that CXC has not published the broad sheet with the results, so we are unable to access and accurately analyze the correct position of the school. However, we have been able to access information from our students. I must say it is with great disappointment that we have observed our top performing students in Guyana, who have appeared to underperform in specific subject areas," Ralph added.
According to her, a total of 166 students sat CAPE, while 95 wrote CSEC.
Thus far, she disclosed, some 121 students have submitted queries via a spreadsheet. The results, she noted, were shocking, as it showed many students underperformed in subject areas in which they are known to excel, such as Geography, Social Studies, Integrated Mathematics, Applied Mathematics, Pure Mathematics Units 1 and 2, and Additional Mathematics.
As such, she is demanding that these grades be reviewed and regraded. Queen's College revealed that some $15 million was paid to CXC this year for the examinations.
The headteacher assured her students, "We stand solidly behind you, and will ensure that we receive regrading. We are calling on CXC to conduct a forensic audit and to give us the information that we deserve to receive. To date, we have not been told how the examinations were weighed. We do not know how our students would have underperformed as CXC claims. We are certain that [CXC] has not sampled and moderated all our [School Based Assessments]."
In this regard, the school is asking that its demands be fulfilled, or it will petition to have Guyana removed from writing examinations offered by CXC.
Ralph pointed out, "We did indicate our intention, that if CXC does not bend, we will petition – and we plan to do it through the Ministry of Education – to remove Guyana from writing the CXC examinations. There are other examination bodies, and we can very well carry our business there."
Impossible
Meanwhile, External Coordinator for Examinations at Queen's College, Samantha Liverpool, said it was impossible for students to fail this year's examinations. She explained that SBAs were submitted within the specified deadline and were all given positive feedbacks. Added to that, Liverpool disclosed that almost 80 percent of the questions on the Paper Ones were repeated from previous years' examinations.
"When I look at a student who would have gained over 95 percent in an SBA looking at a paper where over 80 percent of the questions came back, please do not tell me that a Queen's College student failed that exam. Our students at the college are accustomed to very challenging examinations. They believe that our exams here are two times harder that the exams they receive externally. And we have proven that for numerous years. In all my years at the college, which is over a decade, I have never seen results like this year's."
While this year's examinations were a bit more hectic and difficult due to the COVID-19 pandemic, Liverpool said, "I would have persevered along with my competent teachers. Our students at Queen's College are very intelligent students. Their writings are beyond.
"We demand a regrading. We are asking that CXC do not carry out a simple reviewing of a paper to check for scores. I am asking that they go down and prove that our school did not meet the criteria for the marking of the SBAs based on their moderation. I stand by the students. Some of them are already in a depressed mood. I believe that CXC has a role to play in making sure that these students go forward. [CXC] needs to prove to us where we went wrong.
"We have been paying over $15 million to CXC, and we believe that because we are paying, we need to get service. CXC, we are your customers. We need a competition for CXC. CXC answer us now!"
Fix those grades
Following Thursday's press conference, scores of students from Queen's College and their sister schools, the Bishops' High and St. Joseph High, staged a protest in front of the Education Ministry's Examination Department located right in the QC compound.
Armed with their placards, the students chanted, "Fix those grades! Fix those grades!"
Some of the students explained that they have had sleepless nights preparing for the regional examinations and they will not rest until CXC "fix those grades." Some of them complained of failing subjects they excelled at when they were given past CSEC and CAPE papers to work.
One student shouted, "Those are not my grades," as she demanded that her test papers and those of her colleagues be regraded. Another student called out CXC for issuing "fraudulent grades", and said that this has been causing her and peers mental illness.
"Do not disrespect our hard work. Say no to fraudulent grades", a fifth form student wrote on his placard.
President of the Bishops' High School Old Students Association, Kadeem Davis, shared similar concerns raised by QC. Like several QC students, Davis noted that when CXC opted to change the methodology of the examinations, students objected.
"We demand justice not only for the Bishops' High School Old Students Association and our students, but we demand justice for all of the students who sat this year's examination," Davis said. As a matter of fact, he reminded that Bishops' High is known for its exceptional performances at regional examinations.
"…this year [CXC] is telling us that our students have apparently failed, our students have not done the work. For numerous subjects, many of our students received ungraded results. They submitted SBAs and they have done the examination and CXC is saying that they deserve grades four, five and six. It is unacceptable."