GCB/DMLAS/MOE/NSSCL Combine Phase
The Guyana Cricket Board/Demerara Mutual Life Assurance Society/ Ministry Of Education/ National Secondary School Cricket League will continue on Saturday March 25, 2017 with the tantalizing matchup between North Georgetown Combine and the Rest of Georgetown (players from South and East Georgetown) at the Ogle Community Centre in a 50 Overs aside match, from 09:30h.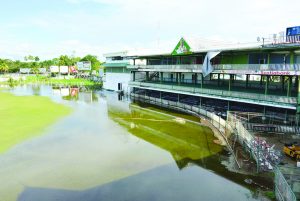 This match was previously scheduled for today for the Georgetown Cricket Club (GCC) ground, Bourda but had to be rescheduled due to the unfavorable playing condition at the GCC ground. The flooding is as a result of rain in the capital city Monday and Tuesday.
At the conclusion of the Georgetown match, a Georgetown Combine District team will be selected to play Mahaicony-East Coast also at the Ogle Community Centre Club ground on Sunday 26 March, 2017 from 09:30h.
North Georgetown X1 will come from: Alphius Bookie, Aren Beharry, Amel Tilku (Christ Church), Juspice Jones, Joshua Gardener (Richard Ishmael), Ashmead Nedd, Lester Cupidor, Sachin Singh, Dwayne Dick, Garrick Persaud, Orande Chase, Kadeem Parris, Trevon Edwards, Tyresse Prescod, Tai-rlys Payne, Tyrese Craward, Shalom Paulis and Lose Blair (Chase Academy).
Rest of Georgetown (South-East Georgetown) X1 will come from: Carlos Pollard, Dequan Bamfield, Qumar Torrington, Chad Shivrattan, Tuen Hicks, Sunil Ramlall, Aubry Thompson, Osapho Greene, Stephon Wilson, Daniel Paul, Delon Allen, Ameer Singh, Wayne Bollers, Kester Mc Mc Allester, Nkosi Beaton and Jamal Micheal.