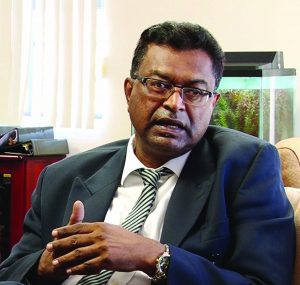 Public Security Minister Khemraj Ramjattan has condemned the alleged abuse of new recruits of the Guyana Defence Force (GDF) which was recently brought to light and later initiated an investigation.
The Force had disclosed earlier this week that an investigation has been launched into the alleged abuse of new officers during what was described as an "initiation" process. Ramjattan told media operatives on Friday that if such actions are true, they will not be condoned.
"If indeed there is abuse of any human beings in Guyana, this must be condemned. There is an element of 'ragging' that happens – this was probably overzealousness and it probably went beyond the red line. Obviously, this went a little too far to injure people," the Minister positioned.
Major Michael Shahoud told Guyana Times on Tuesday that several of the newly commissioned ranks had complained about the treatment they received.
While the official did not divulge more information about the "excessive" whipping, he noted that the "initiation into the club" is a tradition and could not say what went wrong this time.
The issue was first highlighted in a section of the media where a young doctor, who was part of the Reserve Course, is likely to undergo surgery for an injury to his eye.
Another officer, who refused to speak on the matter when contacted, said that he had worked extremely hard to graduate the course and would not want to put himself and colleagues in a position to be victimised or stripped of their instruments.
He nevertheless confirmed that he was one the victims who had suffered from the process. "I recalled going to sleep in pain after the exercise…it was extreme. Initially, I heard about the tradition but did not think it was this painful," he added.
Another officer told Guyana Times that ranks who would have received their instruments on Thursday last were summoned to a meeting last Wednesday. Following the complaints, the senior ranks believed that the incident went too far and that it was not supposed to be violent to warrant hospitalisation. It was reported that in the past, the newly commissioned ranks were welcomed to the club by receiving some lashes with soaps wrapped in socks. This time around, the ranks were reportedly beaten with belts and other items.
Over 50 new ranks attached to the Guyana Defence Force (GDF) were administered their oath and presented with Instruments of Commission in the presence of their Commander in Chief, President David Granger on Thursday last.
This year, 28 officers successfully completed the Standard Officers Course 50, three of which were members of the Belize Defence Force and one from the Guyana Prison Service. In addition, 27 individuals, including six females, completed the Reserve Officers Course 16.