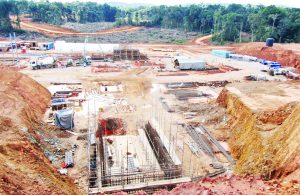 Guyana Goldfields Inc has announced the resumption of operations at the Aurora Gold Mines, after workers would have downed tools and initiated strike actions last Tuesday over grievances relating to their unionisation and severance payments.
Three days without production has resulted in the non-processing of an estimated 22,500 ounces of gold.
On Friday, the Canadian company indicated that persons are returning to work on a phased approach and it is anticipated that full production will resume shortly.
"As a result of the three operational days lost, the company estimates that approximately 22,500 tonnes were not processed, however, full-year production guidance remains unaffected at 145,000-160,000 ounces of gold", the company stated in a release.
Dialogue between employee representatives and the Government has been promised along with full compliance to Guyana's labour laws.
Chief Operation Officer, Suresh Kalathil said in a statement, "Personnel are being re-mobilised and the site is ramping back up to normal operations in a phased and safe manner. The company has agreed to a dialogue with employee representatives and Government authorities to resolve any outstanding issues in full compliance with Guyanese labour law."
The company spent much of Wednesday transporting most of its personnel, via aircraft, from Region Seven (Cuyuni-Mazaruni) to the Eugene F Correia Airport.
The workers had claimed that they were threatened with having their Wi-Fi cut off which is vital to ensure communication from their Cuyuni-Mazaruni location to family members on the coast.
This publication spoke to several workers, including one who revealed what concerns drove the workers to strike.
"There were certain concerns raised by those who were contract workers for four years and so on, and they haven't been given any confirmation. There are cases where some workers are truck drivers and others are utility operators. That means they can operate many other equipment. And they're paid on the same rate as the truck drivers," the worker said.
Another added, "There were safety concerns being raised. And salaries. People have been working with the company for years and they've been advancing and working with other equipment and pay wise, they're paid at a standard rate".
While the company had said that workers "blocked" the delivery of ore to the mills, the workers explained that staff, in fact, lay on the ground in an effort to prevent the loader from transferring the ore from the stockpile.
Matters had escalated on Thursday to a point where the mining company suspended most of its operations.
President of the National Mining Workers Union (NMWU) Sherwyn Downer had previously complained that his efforts with the Department of Labour to gain recognition in order to represent Guyana Goldfields workers were being hindered by the company.
On the other hand, the company has said that by law, Downer needed the support of 41 per cent of all workers and not just those stationed at Buckhall. The company had also made it plain that it will not allow the union on site to seek that support from workers, but rather, such a pitch must be made away from Aurora.
In an interview at the Department on Wednesday, Minister Scott acknowledged the workers' concern about being unrepresented by a union. He gave the Government's commitment to ensure workers get their representation.