Rubis Bel Air U-17 Inter-county…
Story and photos by Brandon Corlette
Berbice got their first win of this year's U-17 inter-county when they thrashed Guyana Select U-15 by 149 runs at the Everest Cricket Club. Sarwan Chaitnarine's unbeaten 58 and Jonathan Rampersaud's unbeaten 41 spurred Berbice to 254-7 in 50 overs. In reply, Select U-15 managed 105 all out after Player-of-the-Match, Jonathan Rampersaud returned with match winning figures of 4-17.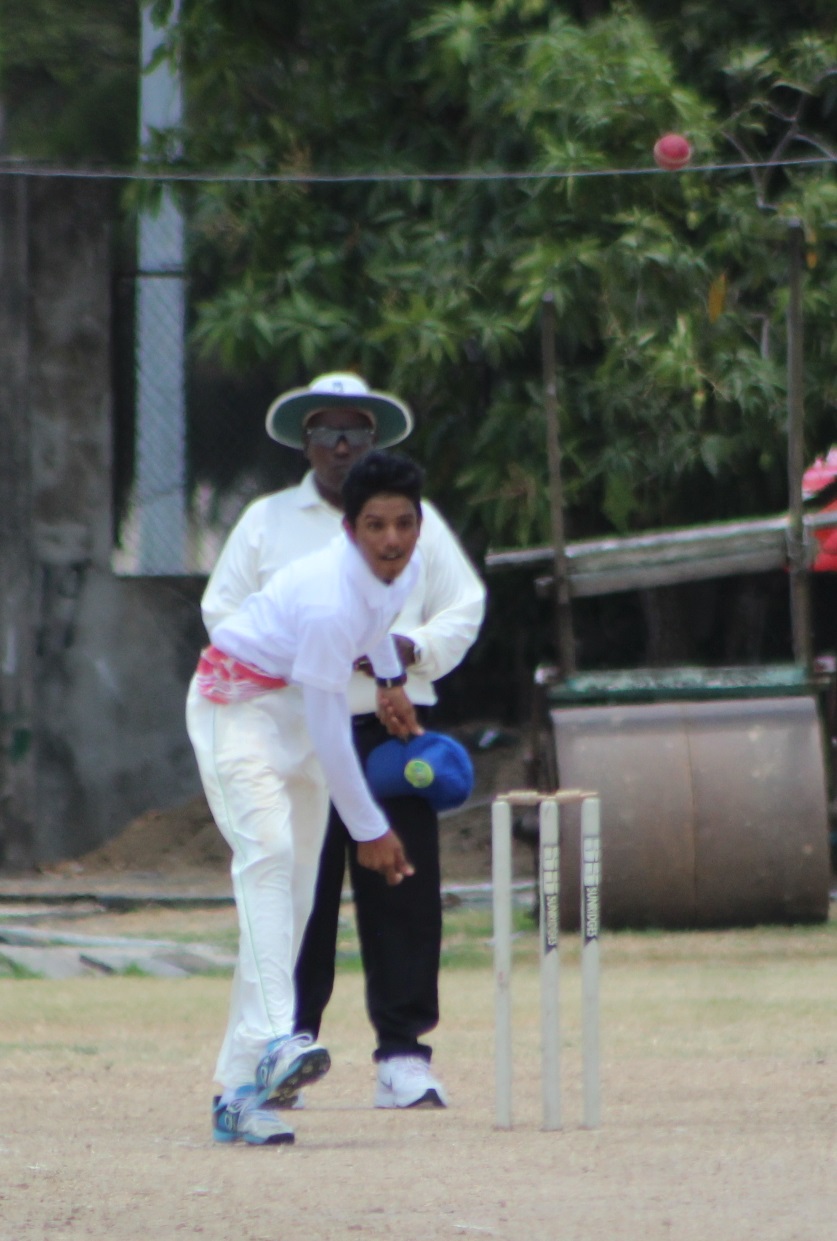 Berbice won the toss and elected to bat first under glorious sunshine on the hard and dry Everest pitch, against Select U-15. The Berbicians made one surprise change in the starting XI, omitting Vice Captain Abdul Ramsammy, who is vastly experienced at the inter-county level.
Openers Ricardo Ramdihol and Rayad Karim began in positive fashion, adding 32 runs inside five overs. Karim was the first dismissed for 10 when he was bowled by the determined speedster, Isai Thorne. The elegant left-handed Ramdihol, was partnered wth former Guyana U-15 captain, Zeynul Ramsammy.
In a 65-run partnership, that took the Berbicians to 97-2 in 25.4 overs, Ramdihol was out bowed attempting to pull a short delivery through the leg-side, off the bowling of off-spinner Alvin Mohabir. The chap from Young Warriors in Cumberland Canje, Ramdihol hit six attractive boundaries in his compact innings of 42.
Berbice captain Marvan Prashad partnered with Zeynul Ramsammy; the brother of Abdul and took the score to 123-3. Prashad played two delightful shots, smashing one six and a four in his breezy 16; he was out leg-before to multi-talented Windies youth player, Mavendra Dindyal.
The Guyana Select U-15, had two more strikes on 123, off-spinner, Alvin Mohabir gave the ball air and removed Zeynul Ramsammy for a marathon 29 that included a lone boundary and the following ball, Mohabir removed Mahendra Gopilall for a duck.
Albion's Sarwan Chaitnarine took control after he lost his partners in Tomani Caesar (3) and Andel Miline (15). In over number 40, the boys from Berbice were 160-6; at 167-7, Jonathan Rampersaud, who was the youngest franchise player in Guyana's league cricket, surprisingly batted at number nine. He was the perfect partner for Chaitnarine and the left-handed duo motored along smoothly.
In the last 10 overs, the Select U-15 team yielded 94 runs as Chaitnarine and Rampersaud gathered momentum, adding 87 runs in an unbroken eighth wicket partnership. Chaitnarine remained unbeaten on 58 after timing eight fours. Rose Hall Town's Jonathan Rampersaud scored an unbeaten 41 that included two fours and two sixes.
The Berbice U-17 team signed off in style, smashing 15 runs in the 50th over of the first innings off Isai Thorne. Bowling for the Select U-15, Alvin Mohabir finished with 4-45 in 10 overs while Isai Thorne, Matthew Pattaya and Mavendra Dindyal had one wicket each, as Berbice reached 254-7 in 50 overs.
In pursuit of Berbice target, Select U-15 lost Anthony Khan for a duck when he was bowled by Quincy Aulder. Jadan Campbelle and Rmpertab Ramnauth added 33 runs together for the second wicket with Rampertab playing fearless shots in his top-score of 23, inclusive of four boundaries. After that partnership the Berbice spinners got into the wicket-taking ways.
From 51-3, Select U-15 lost four wickets for 19 runs; they were reduced to 70-7 in 28 testing overs. Tucber Park's Ravishkar Sobhai revived the innings with a brave 22 that was decorated with three crisp boundaries, as he was the only the second batsman from Guyana Select U-15 to reach 20, as the team managed 105 all out in 40.1 overs.
Bowling in finesse for the boys from Berbice was Player-of-the-Match Jonathan Rampersaud who had 4-17 in 8.1 overs, including two superb maidens with his off-spin. Albion's left-arm spinner, Gourav Ramesh and Blairmont's Marvan Prashad had two wickets each in Berbice's complete performance.
Speaking exclusively to Guyana Times Sport, Berbice captain, Marvan Prashad was satisfied with his team's effort. "The guys did very well making up for the poor batting in the first game," Prashad disclosed.
Berbice will be playing Essequibo in the third round at GCC Bourda; stating, "We are looking to bowl out the team early given the opportunity to boost out net-run rate," the Berbice captain explained.