The regional authorities in Region Nine (Upper Takutu-Upper Essequibo) are being accused of ignoring the concerns of the residents in Karasabai and surrounding villages.
The residents say that they have repeatedly complained to the authorities about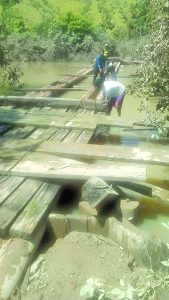 the condition of the Uraurau Bridge, Region Nine, but they have failed to heed the concerns. According to residents, because of the heavy rains and intense flooding in the area, the bridge was "washed away".
After the water receded, residents made several complaints to the Regional Democratic Council (RDC), but no steps were taken to remedy the situation. The bridge is a critical link to the South Pakaraimas.
According to sources from within the RDC, monies were budgeted for the bridge repairs, but to date, the project is yet to be advertised or works commenced.
Following the washing away of the bridge and lack of action of the RDC, the residents of Karasabai Village pooled their resources and repaired the bridge themselves. The repairs were done to get goods into the South Pakaraimas District.
"We had to repair this bridge, because we tired of running around to the region and nothing is happening. We complained to the Regional Chairman and the REO and none of them are doing anything to help the situation," one resident related.
When contacted, Regional Executive Officer (REO) Kerwin Ward said he was unaware of the bridge being washed away. However, he promised to check with the regional engineers and relay the information to this publication.
Subsequent calls to Ward were unsuccessful.