The Region Six (East Berbice-Corentyne) Administration has completed 100 per cent of its work programme for 2022 despite a shortage of materials and inclement weather.
For 2022, the region received $10.7 billion with almost $1 billion going towards capital works.
This was according to Region Six Chairman David Armogan, who, during a year-end interview, related that 2022 was an excellent year. He noted that for the current expenditure allocation, which includes salaries and other recurrent expenses, 99.8 per cent was spent in 2022.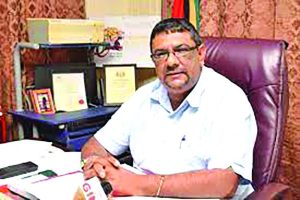 "The 0.2 per cent comes from wages and salaries which we can do nothing about, but return it to the Consolidated Fund because we cannot pay out more wages and salaries than the number of workers that we have within the system," the Regional Chairman explained, noting that the 4000 workers who are employed under Government's 10-day part-time jobs initiative were paid through the Local Government Ministry.
"That money would not have come from the region's budget," he explained.
In its capital programme, $34 million was expended. Among the projects executed was the rehabilitation of the Amerindian Hostel in New Amsterdam. A new wing was added to the facility to accommodate children from the riverine community of Baracara. The dormitory facility in Corriverton for students was also upgraded.
"Buildings would have accounted for $31 million," the Chairman detailed, noting that furniture and equipment accounted for the other $3 million.
For agriculture, $762 million was allocated and most of that sum was spent on drainage and irrigation.
For public works, $343.5 million was budgeted, and $54 million was used for the construction of bridges.
"Bridges were constructed in many areas including Black Bush Polder, Belvedere, Albion, Skeldon and the 52-72 NDC [Neighbourhood Democratic Council] and many other areas across the region. Especially in the Black Bush Polder, many of the bridges were deteriorating and we had to build new bridges," Armogan explained.
A whopping $275 million was spent on road works. Some 14 new roads were done under the region's capital works programme in 2022. Additionally, under public works, a further $14.5 million was budgeted which was utilised for the purchase of vehicles.
Meanwhile, $264 million was allocated under education delivery, to carry out capital works in the region. Most of the funds were used up on extensions to school buildings; $184 million was spent on buildings under education.
St Theresa's Primary, New Amsterdam Multilateral, Canje Secondary, Skeldon Line Path Secondary, Berbice High School, and Belvedere Primary are some of the schools on which works were carried out. Apart from that, several nursery schools were also extended.
"We had to put in additional space, because the numbers going there had outnumbered what the school had catered for," Armogan pointed out.
He said two buses were also purchased for education delivery to the region in 2022.
"We are trying to move away from the blackboards to whiteboards and trying to make the classrooms smart classrooms so a lot of money had to be spent on new equipment and purchasing computers, so as to make the classroom more convenient for students. Forty-five million dollars was spent on furniture and equipment."
For the health sector, $247 million was allocated of which $160 million was spent on rehabilitating several hospitals and health centres including the Skeldon, New Amsterdam, Port Mourant and National Psychiatric Hospitals.
"The only project left to be completed under health is the Fort Ordinance Health Centre. Ninety per cent of the work has been completed."
Apart from the large sums spent in 2022 by the regional administration, monies were spent by several Government Ministries to assist in the development of the region.
The Public Works Ministry has spent billions of dollars to construct and rehabilitate hundreds of streets.
"Five hundred and thirty-seven streets to do in a one-year period is a substantial amount of work and we have not even started work in the Black Bush Polder, where another set of work has been allocated. The main roads are being done presently and then the streets within the Black Bush Polder," Armogan said.
The Housing Ministry spent $100 million to develop streets with concrete surfaces in the new housing communities. These include Chesney, Hampshire, Port Mourant, Belvedere, Fort Ordinance and other new housing schemes in the region.
"Through the Culture, Youth and Sports Ministry, almost 30 community grounds have been rehabilitated and more are on the cards to be rehabilitated including the grounds in Black Bush Polder. What you will find is that more persons will be getting involved in sporting activities," the Regional Chairman said.
The Agriculture Ministry has also played a major role in the development of Region Six in the past year, with millions of dollars spent on drainage and irrigation works.
"I want to say how thankful we are to the Ministry of Agriculture for the help that they have given to us, because this money that we spent under agriculture for drainage and irrigation which was $71 million could have hardly done anything much in light of what was happening in the regions in terms of repairs to structures for drainage. Even in areas where we had to do irrigation work, we had to make sure that the canals are clean so that when the pumps are operable in the 52/74 area and as well in the Black Bush Polder area, irrigation water can reach the farmers on time," Armogan added.
Meanwhile, the region has put forward a $2.9 billion budget proposal for 2023, for its capital work programme. In that budget proposal, 51 community streets are to be rehabilitated.
Work is slated for all three towns in the region and 16 of the 18 NDCs.
The two NDCs where no road work is planned are Enfield/New Doe Park NDC and Plegt Anker/Kortberaadt NDC both on the East Bank of Berbice. These communities are slated to benefit from upgrades to sluices and heavy-duty bridges under the region's drainage and irrigation programme for which a budget of $200 million is proposed. (Andrew Carmichael)