…replacement hired 24 hrs later
Chairman of the Regional Democratic Council (RDC) of Region 10 (Upper Demerara-Berbice), Renis Morian expressed his disappointment during a recent statutory meeting after it was found that an employee was dismissed without following standard procedures.
The unilateral dismissal was brought to the attention of the Council by Councillor Mavis Lewis, who informed that an employee by the name of Rockell Bailey was removed from her position as supervisor of a hostel in Kwakwani by acting Regional Education Officer, Sonia Fraser. Bailey was told that her services were no longer needed and subsequently replaced with a one-day notice.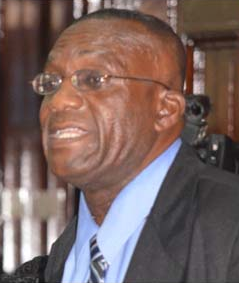 The Chairman, who was seemingly displeased stated, "I want to say that the placement of staff should not be news to this Council. I want to sound it clear to administration and education. This Council here oversees everything that happens here and on behalf when Council is out of session, the Regional Chairman fits in for Councillors and updates Councillors.
I must not come here and hear that a staff was sent, a staff had to go and this Council didn't hear so I am asking that this practise stop from today. This Council manages the affairs of this region".
He reminded Heads of Departments attending the RDC meeting that the regional administration will not tolerate such inefficiencies.
Meanwhile, the Deputy Regional Executive Officer (DREO), Maylene Stephens, sought to respond, saying that she only became aware that the previous supervisor was fired and a new one was hired.
She disclosed that the acting REDO took an application for the new supervisor to the Personnel Department and it was decided to fire the supervisor and employ a replacement immediately.
She disclosed that the Personnel Department sought advice from the Public Service Commission and was given the green light to proceed with the employment of the new supervisor.
The Regional Chairman expressed his dissatisfaction at the situation, dubbing it as being very disturbing.
He declared that while the region is seeking to have a number of vacancies, there are persons who are being dismissed without due process.
He continued, "We have done this woman a great injustice and this Government don't work like that because we are not a cowboy administration where you just knock off someone because you feel like and let me say this I am going to write about this because education has certainly acted outside of their remit".