Health Minister, Dr Frank Anthony handed over a ventilator and an oxygen concentrator to the Upper Demerara-Berbice (Region 10) health department on Friday to enhance its COVID-19 treatment.
The Minister presented the items during a meeting at the Regional Health Department, the Department of Public Information reported.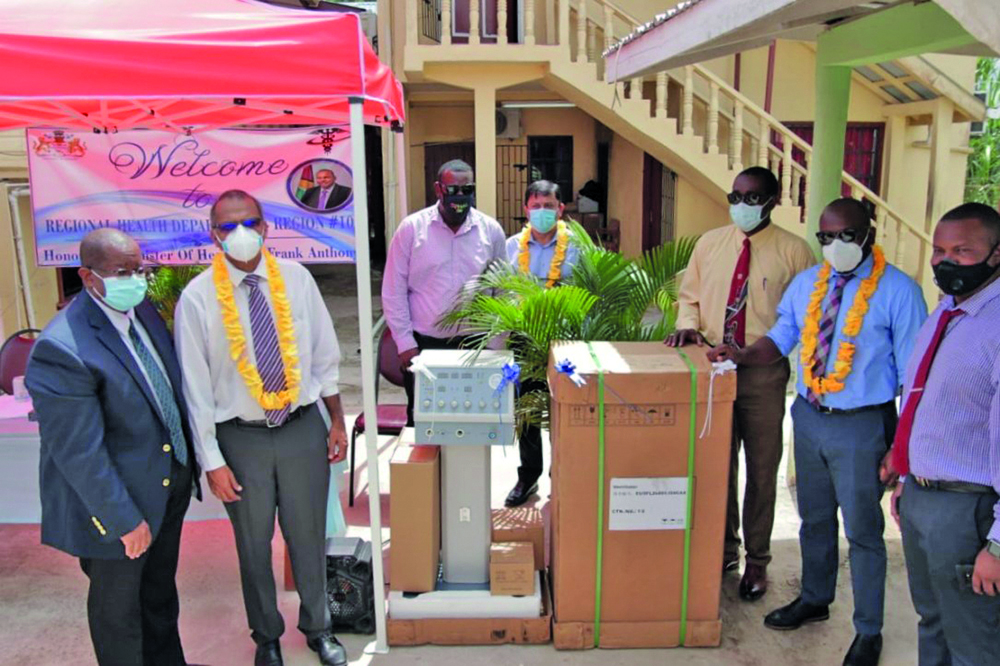 Health management teams have been dispatched to facilities across the regions to check on their specific COVID-19 treatment needs.
"We're trying to ensure all of our regional hospitals have ventilators. In addition to that, we want to ensure that all hospitals have treatments, so that if there are critical patients that come, we are able to provide that level of care," Minister Anthony is quoted by the DPI report as saying.
He advised the Regions with needs to contact the Ministry.
"We are buying. You can ask the Ministry so that you're able to get some of these things. They are there for every single region. In addition to that, we have been working to make sure that we can have the medications that can be used for COVID-19," the Minister said.
Dr Anthony complimented the region on the overall management of its health services, while stating that he wanted to find solutions to challenges hampering care.
"We are all here to serve and I think health is one of those areas where we all need to combine our efforts to make sure that the general public receive those services."
Permanent Secretary Malcolm Watkins; Chief Medical Officer, Dr Narine Singh, Regional Health Officer, Gregory Harris; Regional Chairman, Deron Adams and other regional officials also attended the meeting.
Ventilators and other vital equipment and medications were recently provided to hospitals in Pomeroon-Supenaam (Region Two) and East Berbice-Corentyne (Region Six) as part of the effort to boost regional health systems.