High-performers of Region Two (Pomeroon-Supenaam) at the Caribbean Secondary Education Certificate Examination (CSEC) were on Wednesday honoured for their stellar performance by the regional administration, in collaboration with the Department of Education.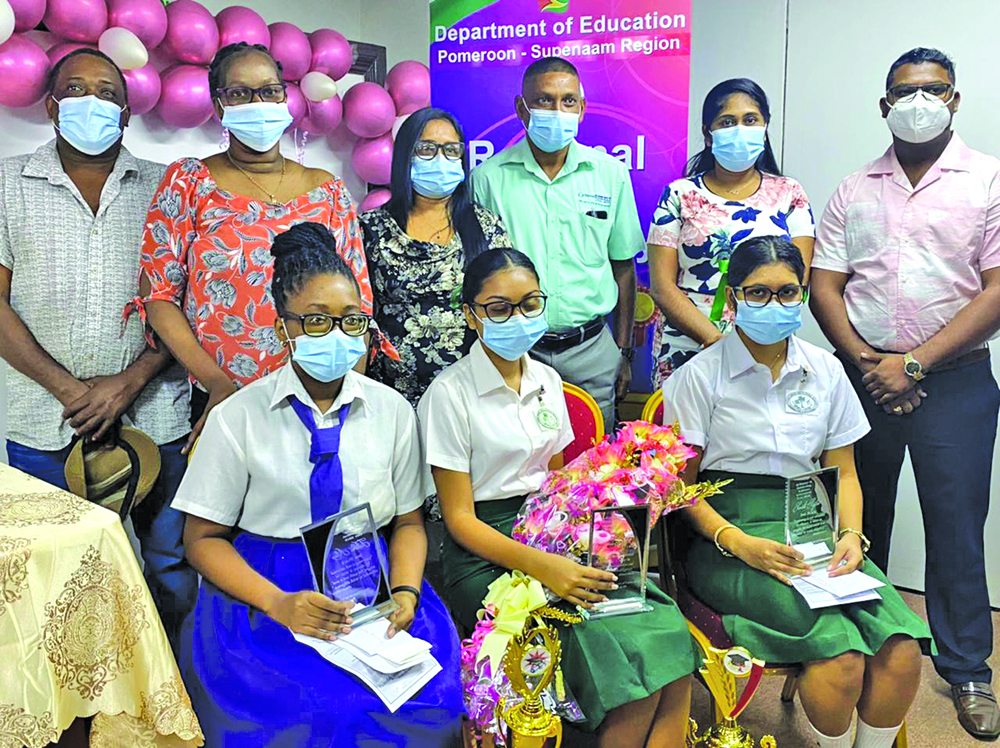 An awards ceremony was held in the Regional Democratic Council Boardroom, and the top three CSEC awardees: Duvina Seurattan, Swasti Saytoo and Tabitha Alves, along with their parents, councillors, the regional bodies and the senior educational officers in the region, were present.
Regional Chairperson Vilma De Silva congratulated the three students and said they are now embarking on a new journey that would determine their future. She encouraged the students to stay focused, climb the academic ladder, and continue to shine in their future endeavours.
Meanwhile, the Regional Education Officer said that despite the pandemic, the students made the region proud. She said the region recorded 56 per cent matriculation rate for 2020, and that is a remarkable achievement.
In addition, Regional Executive Officer (REO) Devanand Ramdatt highlighted the talents and skills of the top students, stating they are not only academically brilliant, but also rounded individuals that created a suitable future for them.
The students received plaques, trophies, and cash prizes from Adamantium Holdings/Alfro Alphonso of Charity, Essequibo Coast.
The top performers expressed their gratitude to the Regional Democratic Council (RDC) for the ceremony and for appreciating their successes.