Contracts for friends and family
…wants inquiry of contracts awarded by selective tendering
Following allegations surfacing against the Region Nine (Upper Takutu-Upper Essequibo) Administration of contracts being awarded to friends and family of senior officials, the Regional Democratic Council (RDC) has formally called on the Public Procurement Commission (PPC) to investigate.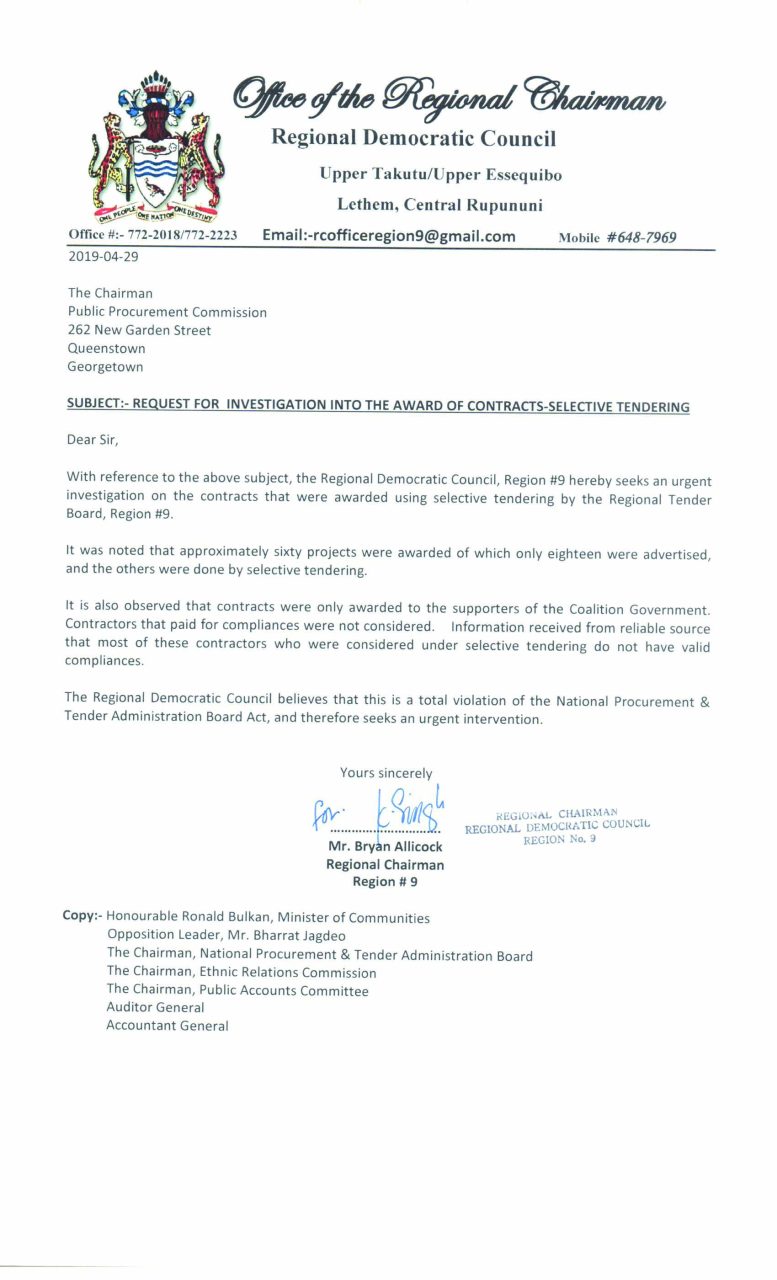 In a correspondence seen by this publication, Chairman Brian Allicock informed the PPC that there are cases where contracts are awarded to supporters of the current Government, but these contractors do not have the requisite compliance documents.
"It was noted that approximately sixty projects were awarded of which only eighteen were advertised, and the others were done by selective tendering," Allicock wrote. "It is also observed that contracts were only awarded to the supporters of the coalition Government. Contractors that paid for compliances were not considered."
"Information received from reliable source [State] that most of these contractors who were considered under selective tendering do not have valid compliances. The Regional Democratic Council believes that this is a total violation of National Procurement and Tender Administration Board Act, and, therefore, seeks an urgent intervention," he also wrote.
The correspondence was copied to Minister of Communities Ronald Bulkan, Opposition Leader Bharrat Jagdeo, Chairman of the National Procurement and Tender Administration Board (NPTAB) Berkley Wickham, Ethnic Relations Committee Chairman John Adams, Public Accounts Committee, Auditor General Deodat Sharma and the Accountant General.
This publication had previously reported on the award of a number of contracts by the Regional Tender Board in Region Nine to the near relatives of a high-ranking regional official.
According to documents seen by this publication, the recipient of one such contract is the son of the regional official. According to the documents, he was awarded a $4 million contract through selective tendering for the construction of sanitary blocks at the Kumu Nursery School in Region Nine.
Another contract to the same individual was for maintenance work to the Lethem Sub-Treasury Office, to the tune of $489,000. This contract was also awarded by selective tendering, a case in which the contractor has been invited to tender for a project.
Meanwhile, another contractor was the recipient of a $2.1 million contract to carry out repairs on Baitoon Primary sanitary block. The contractor, who is reportedly the official's son-in-law, was awarded this contract through selective tendering.
Documents also show that he received an even larger contract worth $6.1 million to carry out repairs at the Health post at Shea Village, also in Region Nine.
This comes at a time when there are rising calls for a policy that will guard against conflicts of interest to be created. Observers have criticised the Ministerial Code of Conduct for lacking teeth and distinct penalties. Meanwhile, the Integrity Commission has previously complained about not having investigators.
Region Nine has long been a hot button region when its Administration is called upon to answer for procurement violations at the Public Accounts Committee (PAC) of the National Assembly. The Audit Office of Guyana has previously red-flagged the region.
According to the AG's 2016 report, a sum of $73.871 million was budgeted for the procurement of drugs and medical supplies under the Health Services Programme for 2016. It stated that amounts totalling $63.871 million were expended as of December 31, 2016.