Guyanese, arguably the most beautiful people on the planet, will make the Regional Cricket Tournament for the Blind and Visual Impaired, set for August 21 through 28, the best ever seen in the Caribbean.
For several days here in Guyana these awesome and lovely people will engage in battles beyond the normal, as three teams will defy all odds on a battlefield where grace is expected to prevail over all.
Over 42 of the Region's best will be on show for top honours and spots on the West Indies Team for the limited overs World Cup in Dubai and Pakistan in January 2018.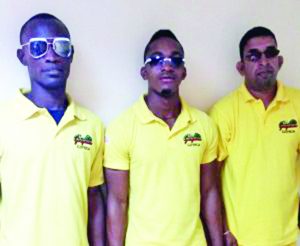 Guyana, Barbados and Jamaica are the teams that will be vying for top honours in the week-long event, which was originally scheduled for July but was postponed because of the inclement weather here in Guyana.
There are calls for corporate Guyana and the Government to get involved in financing the tournament, calculated to cost Gy$2.5 million dollars to be hosted here.
Their assistance will be most welcome due to the nature of the event, which is heavily dependent on contributions from outside the special community.
For more information in relation to the tournament, interested persons could contact Treasurer of the Guyana Council for the Blind Treasurer, Theresa Pemberton, on 670-3535; or captain of the Guyana team, Ganesh Singh, on 652-8975.