…as President Ali advocates for regional measures to enhance energy security
Trinidad and Tobago (T&T) has been given the green light to develop a gas field in Venezuela's territorial waters, with the United States (US) Treasury Department approving the licence on the grounds of the importance of energy security in the Region.
This is according to a Reuters report, in which a senior official in the President Joe Biden Administration was quoted saying that the licence for developing the Dragon gas field was issued at T&T's request.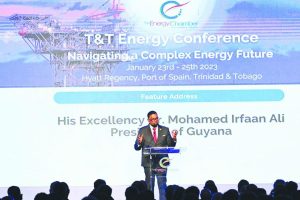 It was also explained that they will be working with Venezuelan State-owned company Petroleos de Venezuela (PDVSA), though the report also says that the Venezuelan regime of Nicolás Maduro will not receive any cash payments from the project as remaining US sanctions will still be in force.
"This decision is the result of extensive diplomacy between Vice President Kamala Harris and Caribbean leaders, who have made it clear that granting this specific licence would help ensure their energy security and decrease the Region's reliance on energy resources from other countries, including Russia," Reuters also quoted the anonymous official as saying.
US sanctions were imposed on Venezuela after Maduro returned to office in disputed 2018 elections where Opposition parties were banned from participating. Those sanctions require companies and Governments to obtain authorisation from the US Treasury Department before doing any business with PDVSA.
While Maduro has been making attempts to regain both domestic and international footing lost during sanctions, the US official in the Reuters report was keen to emphasise that US policy against Venezuela has not changed.
Enhance energy security
President Dr Irfaan Ali, who meanwhile delivered a speech at the Trinidad and Tobago Energy Conference 2023 in Port-of-Spain only on Monday, has long been an advocate for more measures and policies in the Region to enhance energy security.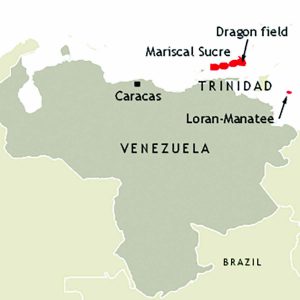 Renewables have been touted to break the hefty carbon footprint, but Ali shared that to secure the energy requirement, the reality is that the Caribbean will need oil and gas resources. The estimated renewable capacity of the Region is 1574 megawatts with a capital requirement of US$11 billion to achieve fundamental targets.
The President detailed, "We can safely say that in this Region, fossil fuel and natural gas has a long future ahead of us. It is not a big scientific analysis. It is based on what is before us. The conversation is how do we take this reality in the context of building a global system and world that move towards net zero? How do we reduce our carbon footprint? How do we catalyse the revenue to open up new sectors, greener technology?"
He had underscored that going 'green' is not a simple task without significant investments, which the Region does not have. As such, he urged countries with natural gas resources to aggressively pursue its natural gas to subdue the energy insecurity within the Caribbean, while working towards greener technologies.
"For the energy need security of this Region, I once again reinforce the call that every single country in the Region with potential in natural gas should be allowed to explore that potential to its fullest, aggressively, to ensure the energy security of this Region," Ali had positioned.
He cited the case of Trinidad and Tobago, where this opportunity exists and should be allowed to blossom. The Guyanese President expressed that high energy prices mean high transportation, electricity and consumable costs, contributing to inflation.
At the centre of the food, climate and energy crises happening simultaneously around the world, he shared that energy is the backbone through which everything befalls. And in the middle of such crises, he noted that 'strange movements' have been driven by a few countries.
The Caribbean Sustainable Energy Roadmap and Strategy, approved to support the energy policy of the Region, sets regional targets for renewable energy contribution to total electricity generation in Caricom, at 28 per cent by 2022 and 47 per cent by 2027. The reality is that as of 2020, only 11.5 per cent renewable energy was achieved.
The only known available financing to achieve this target is through the Caribbean Development Bank, with a loan portfolio of US$1.4 billion.
According to Dr Ali, this is the reality.
"This is not skirting around the issue or intellectually tampering with the issue. We have a responsibility as policymakers to fit things in its realistic environment and construct," President Ali had said.