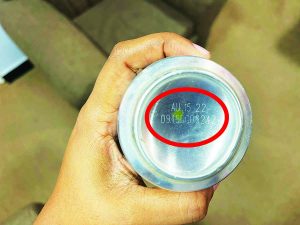 An investigation has been launched into several local businessmen after it was found that the expiration date on a batch of Diet Pepsi was tamped with to show that it has a longer shelf life.
Information reaching this publication shows that the batch of Diet Pepsi expired in August 2022 but that date was tampered with and changed to December 2023.
The investigation into the businessmen was launched after the Diet Pepsi was supplied to a popular hotel and the discovery was made.
Reports are it was found that a number of products, which are being imported and supplied locally by the businessmen were found with tampered labels and altered expiration dates.
On Tuesday, the Police and the Government Analyst – Food and Drug Department (GA-FDD) were called in after a number of tampered items were found by the local hotel.
As investigators pursued the matter and confronted one of the businessmen, he claimed that his establishment purchased a batch of Diet Pepsi from another local importer. When that importer was contacted for the import information and batch number from the overseas supplier, he claimed that he purchased the items from "people walking around" and selling. He claimed he is unaware of these persons' names and addresses.
A number of items were stored in the warehouse of one of the local businessmen.
Guyana Times understands that efforts are being made for the items to be recalled from the local market as several other items are being checked for tampering. Charges are expected to be instituted against the businessmen.