…Guyana's Brazil embassy at 64% completion
Even as Guyana's international and regional clout continues to grow, it has been revealed that two more Latin American and Caribbean (LAC) countries are preparing to set up embassies locally.
Making this revelation was Foreign Affairs Minister Hugh Todd, during his Budget 2023 debate presentation in the National Assembly on Tuesday. Todd said that the interest of these two countries in setting up embassies, signals Guyana's upward trajectory and their efforts since 2020 to repair Guyana's international image.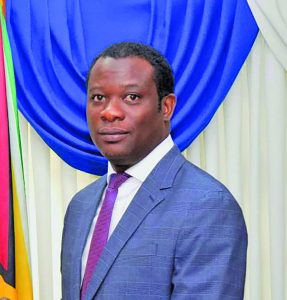 "As I speak, the Guatemalans are preparing to establish an embassy in Guyana. As I speak, the Colombians are preparing to re-establish an embassy here in Guyana. As I speak, the Dominican Republic is preparing to establish an embassy here in Georgetown."
"Our international image has been repaired. It is on the move, being led by His Excellency President Irfaan Ali," Todd said, referencing events under the former A Partnership for National Unity (APNU) Government when Ministers were sanctioned by the United States (US) Government for not respecting results from the 2020 General and Regional Elections.
Todd meanwhile gave an update on the embassy Guyana is building in Brazil… a project inherited from the former Government. In Budget 2023, $525 million was allocated towards completing this embassy which, according to the Auditor General, started off with a flawed contract.
"Mr Speaker, I have a document here. A report from the Ministry of Foreign Affairs. This is what we have to say. The consultant reported that 64 per cent of the project has been completed today."
"This was a contract that was fundamentally flawed, knowingly. And there are members on the other side, sitting members of the Opposition, who knowingly presided over a contract they could not deliver on," Todd further said.
According to the Auditor General's 2021 report, the US$4.4 million (G$937.9 million) contract for the embassy was initially awarded in 2019 with a six months defects liability period and a construction duration of eighteen months. However, there was conflict between the Ministry of Foreign Affairs and the contractor over whether the contract should be a "measure and value" or a "fixed price" contract.
"The contractor claimed that the contract should be classified as 'a measure and value' contract and that payments should be based on measured works. The contractor also claimed that the approved bill of quantities was incorrect since it did not match the designs and additional works on the ground had to be carried out."
"There were also problems between the contractor and the supervisory management team. The contractor reported that the consultant was recommending payments based on the bill of quantities and not measured works," the Audit Report said.
As a consequence, it was related that the labour force was reduced. To address these issues, a stop work order was issued for the period 5 February 2020 to 5 March 2020, and then extended to 20 March 2020.
A number of meetings were also held and it was finally determined that the contract should be a "fixed price" contract. Although works recommenced on the project, there was further delay due to the COVID-19 pandemic, which affected labour and resource mobilisation.
At the end of 2020, the contractor received payments of US$2.4 million (G$501.2 million). In 2021, amounts totalling US$1.8 million (G$383.7 million) were paid, bringing the total payments to US$4.2 million ($885 million).
According to the Auditor General, these payments to date represent 94 per cent of the contract sum. At the time of reporting, the project was 64 per cent completed and a special investigation of the project by the Audit Office was underway.
The sod for this project to be built in Brasilia, Brazil, was turned since 2017, by then Foreign Affairs Minister Carl Greenidge and then Public Infrastructure Minister David Patterson, during a visit to the neighbouring country.
Speaking in other sections of the media, Foreign Affairs Minister Hugh Todd had said earlier this year that the People's Progressive Party/Civic (PPP/C) Government inherited the project with numerous flaws. A sum of G$17.3 million was set aside in the 2022 budget to complete the project. (G3)