…200 community health workers trained in 2 years
Budget 2023 will cater for a massive 1000 nurses being trained to enter Guyana's healthcare system, following on the heels of the Government's recent salary increases for healthcare workers.
This was revealed by Minister of Health, Dr Frank Anthony, during his budget presentation on Tuesday. He emphasised that the Government is focused on training and retaining nurses, not losing them to overseas competition.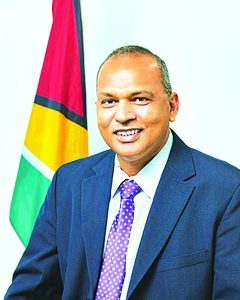 "We are trying to train our nurses and retain them, by paying them better. And that is what we start doing this month. And by the way Mr Speaker, in the first quarter we'll be training 1000 nurses for the health sector. Mr Speaker, when we talk about progress in the health sector, that is what we've been doing," Minister Anthony said.
Talking about upgrades, Anthony also revealed that over 250 health centres and outposts have been upgraded between 2021 and 2022. He also revealed that in 2 years, his Government has trained 200 community healthcare workers.
"To deliver the services at our health posts and health centres, because under the APNU because not much training was done for health personnel. And over the last two years alone, we have trained more than 200 community health workers."
"So much so that in every health centre or health post in Regions Nine and One, there are at least two community health workers. This is what progress looks like. But not only that. We have given to these health centres rapid kits that can do all kinds of diagnoses.
According to the Health Minister, this type of testing will be made available at all health centres. He also assured that the requisite medication will be provided so that persons can be treated on site.
The 2023 budget allocated some $84.9 billion to the health sector, which will go towards financing the construction of various paediatric and maternal hospitals and six new regional hospitals. Additionally, money will also go towards rehabilitating and expanding existing hospitals, while over $500 million has been allocated to train healthcare professionals.
Government is presently building several state-of-the-art health facilities across Guyana. There has even been talk of a stem cell facility. In 2021, the sod was turned for a new $2 billion multi-specialty hospital, to be constructed in Suddie on the Essequibo Coast.
More than $1.5 billion was invested in Budget 2022 to upgrade health posts and health centres countrywide. And in July of this year, the Government partnered with New York-based Mount Sinai Health System and Hess Corporation to transform Guyana's healthcare into a world class service that will not only ensure accessibility and affordability for Guyanese citizens but also the Caribbean Region.
To this end, an agreement between the three parties was signed at State House, where President Ali launched the National Health Care Initiative – a three component plan that focuses on enhancing the country's primary healthcare services, improving patient care and management at the Georgetown Public Hospital Corporation (GPHC) and developing specialised services in cardiology and oncology with the private sector.
To take the National Health Care Initiative forward, a Coordinating Steering Committee will be established with President Ali, Executive Vice President and Chief Clinical Officer of Mount Sinai, Dr Jeremy Boal; and Mount Sinai Board Member John Hess.
Additionally, a National Steering Committee, comprising of the private sector and Government officials will also be set up to look into Guyana's "skills divestment", that is, to determine the local skillset and ascertain the deficit and skill filling. (G3)