Bites from different Caribbean countries matched with Guyana's smacking cuisine took Main Street by storm, as the Regional Food Festival offered a flavourful experience to patrons this weekend.
Here just for a few days, the initiative is part of the Cricket Carnival festivities. By midday on Saturday, businesses lined the street to prepare their signature dishes as patrons trickled in.
With soca music to liven the atmosphere, pots were brewing in anticipation of the usual crowds. When Guyana Times paid a visit, a selection of fusion and traditional dishes awaited the public. From Guyana, pepperpot, curries, and other known delicacies were coupled with newer inventions like the cassava bread pizza by the Singing Chef Adventures.
Authentic pastries and local drinks like mauby and sorrel were all ready to be sampled.
On the other hand, Cuban, Barbadian and Surinamese cuisines also generated quite the attraction.
Jennifer Thomas of Jenny's Homestyle Kitchen was elated at the attention her business generated. Being a small caterer from Garden of Eden, the 51-year-old woman explained that her goal is to offer food that gives a home-cooked feel.
"Our best is the grilled meats. You name it. We got it…I'm so happy to get this opportunity to showcase my business. I normally do delivery from home so this is a big thing for me. I'm so happy for this," Thomas told this publication.
Over at Doc's Catering, Salima Husain shared that they are creating the best Cuban and fusion menu items. According to her, persons were sold on their croquettes with ham.
"We prepare burgers, hot dogs, fish and French fries. It's also a mix of Cuban and Guyanese food. The Guyanese people like it too much."
Troy Vannooten, on the other hand, is famous for his barbecue meats and kebabs – which is only available for special occasions.
"I've been doing this for years. I only do it only for special events because I want people to taste my special fingers. Every time we come out, nothing is left back," the Eccles resident relayed.
Meanwhile, Carol's Snackette brought a taste of Guyanese snacks, like her famed eggballs, and locally made juices.
Larger establishments such as Heliconia Restaurant, Palm Court and the Wine Vault were also present at the festival. Viresh Rampersad represented Maharaja's Palace, which has been known for their authentic Indian cuisine.
He shared, "We have a wide variety of Indian cuisine. We have biryani, chicken tikka masala and Asian-fusion as well. If you come to the restaurant, you have a much wider variety to taste. You can eat there for a year and have a different dish every day…People are truly happy to have that authentic Indian food. It's not something that they find very common in Guyana."
Enjoying the festivity was Victor Gauto from Paraguay, who accompanied his family to check out the carnival-like festival.
"My wife heard about it and she said we should come take a look. So, we came here early and was having a really good time…We had some food, juices and drinks and having a really good time. Guyanese food is so flavourful. There's so much variety of food than I'm used to. I don't think I've tried everything as yet because it's so much," Gauto added.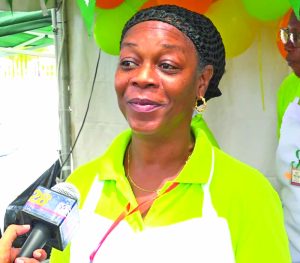 All the way from New Jersey, Lall (only name provided) returned to Guyana for the Caribbean Premier League. However, he was equally excited to capitalise on the local foods.
"We have to get some food from here, which we're waiting on. The crowd is developing. We're good to go. We don't get this that much. I love the fried rice and cook-up." (Rupa Seenaraine)