…as protesters demand his resignation
One day after Police in Essequibo Coast, Region Two (Pomeroon-Supenaam), questioned Regional Executive Officer, Dennis Jaikarran over an assault report filed against him, members of the Women Progressive Organisation (WPO) were joined by several persons, condemning the alleged act.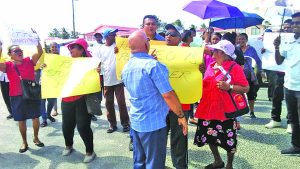 On Wednesday the WPO, the women's arm of the People's Progressive Party (PPP), along with a number of other persons joined the protest action while condemning the alleged assault against the region's Vice Chair, Nandranie Coonjah.
Reports are Coonjah had closed the main door to the Regional Democratic Council (RDC) office when the REO and supporters of the A Partnership for National Unity left the boardroom.
According to the Regional Vice Chairman, the REO and supporters of APNU left after disturbing the monthly statutory meeting by protesting and shouting slogans inside the boardroom.
However, the REO reportedly returned to the boardroom "annoyed", according to the Vice Chairperson.
Coonjah said that the REO accused her of slamming the door as he and the protesters exited.
She alleged that it was then that the REO hit her on the shoulder, in the presence of the Regional Chairman Davanand Ramdatt and other councillors.
On Wednesday protesters outside the RDC office called for Jaikarran to respect women. The protesters also called for the Government to dismiss Jaikarran for his alleged actions. Among the slogans written on the protesters' placards were "REO must go"; "REO must respect the RDC"; "REO must show respect for the people"; "Investigate the REO now"; "REO must respect women".
However, the situation in front of the RDC escalated when the REO confronted the protesters. Guyana Times was unable to reach Communities Minister, Ronald Bulkan for a comment on the situation.
Meanwhile, Police at the Anna Regina Police Station have since taken statements from both Coonjah and Jaikarran. The assault matter is being investigated.