Four months after it was torched during a foiled robbery, repairs have commenced on the burnt-out Wismar Post Office in Linden, Region 10 (Upper Demerara-Berbice).
This comes on the heels of the inking of a contract funded by Government and facilitated by the Regional Democratic Council (RDC). According to Regional Chairman Renis Morian, the repairs will be executed in phases and is expected to be completed within the next four weeks.
Morian said he was happy that things are moving apace, citing that he was not pleased with the inconvenience and discomfort currently being experienced by the community's senior citizens who depend on the services offered at the location.
Pensioners were forced to utilise services at the Mackenzie Post Office in Linden following the incident, which has since been plagued by overcrowding and other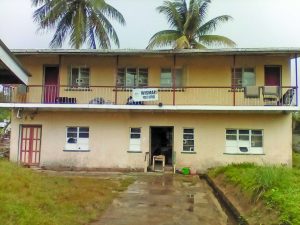 issues.
Since then, the RDC has lobbied for the swift repair of the Wismar Post Office and has since made calls for it to become an agency to be budgeted for in light of difficulties in securing funds to conduct the repairs.
The interior of the building was reportedly set ablaze in the wee hours of August 2, 2018, after bandits forced their way into the building. They reportedly encountered difficulties in accessing monies from a safe which was believed to contain monies to pay old age pension.
The bandits retaliated by setting the building alight. Pensioners who turned up to receive their Old age Pension the next morning were unable to access payments since the Post Office had remained closed.
The incident has led to calls by residents and officials for the need for more security at the Wismar Post Office, which has been hit several times by bandits. No arrests have been made in relation to the most recent incident.