The women of the Guyana Police Force (GPF) have been constantly making the organisation proud in their dominance in many areas which is already public knowledge.
As the Guyana Association of Women Police celebrates its sixth anniversary, last Friday during the Guyana Defence Force (GDF) fourth quarterly fitness assessment at Base Camp Stephenson, a female contingent from the Police Force emerged victorious from among six other female teams, after having won the previous quarterly competition.
On Friday last before the commencement of the Obstacles Crossing, the Police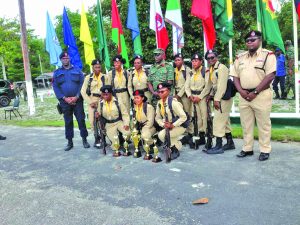 teams (Females A & B and Male Teams) were privileged to be given a "pep talk" by Police Commissioner Leslie James which without a doubt motivated his subordinates to achieve the remarkable feat, especially at a time when a large contingent of female officers from Trinidad and Tobago is visiting.
The teams participated in nine disciplines over a two-day period (Thursday, November 29 and Friday, November 30 and the Female A Team under the command of Sergeant 23949 Alita Moore amassed 609 points and dominated in the following areas.
Other members of the winning team are Corporal Stacy Wilson, Lance Corporal Dellie Williams, Constable Tiffany Carto, Constable Kiticia Pellew, Constable Eva Harry, Constable Luncianna Bernard, Constable Tenisha Isaacs and Constable Onika Eastman.