With the aim of tackling a range of issues prevalent in the lives of adolescents and adults, The Caribbean Voice (TCV) in collaboration with Seva4Life (a Canada-based Non-Governmental Organisation) and the Yakusari Humanitarian Mission on Sunday last held a training workshop.
The workshop was housed at the Yakusari Resource Centre, Black Bush Polder, Region Six, which saw an acceptable turnout of teens and adults.
The sessions were deemed interactive as key focal points such as suicide and prevention – warning signs, depression, coping skills, self-acceptance, self-esteem, and self-care were among the topics covered – and abuse in all its forms, especially domestic and sexual abuse, were discussed.
These sessions also included role plays and even question-and-answer and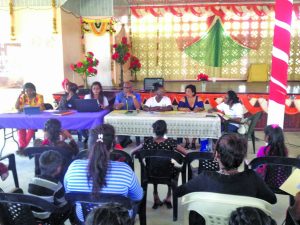 feedback segments. The TCV personnel were also overwhelmed by requests for help to deal with a range of issues, including rape, gender-based violence, depression and dysfunctional relationships, since these issues deeply affect the community.
While TCV is working to provide the necessary help, it also has plans to conduct follow-ups on clinical outreaches so as to be able to identify additional needs and address them.
The workshop panellists included: Dr Patrick Sixtus Edwards, Psychologist/Director of TCV; Ascena Jacobs, Probation and Social Services Officer/Volunteer with The Guyana Foundation; Carol Mancey, a Counsellor; Bibi Ahamad, an activist, advocate, and mentor counsellor of TCV along with volunteers Chandra Waston, Indi Ram, and Indra Ramcharran-Constantine.