Veteran's Affairs CoI
The report of the Commission of Inquiry (CoI) ordered by President David Granger into the conditions and circumstances facing veterans of the Guyana Defence Force (GDF), the Guyana People's Militia (GPM) and the Guyana National Service (GNS) has been handed over by Colonel (retd) Desmond Roberts to Minister of State Joseph Harmon on Friday.
In accepting the Report, Minister Harmon said Government is fully committed to examining the recommendations contained therein with a view to implementing them as far as is practicable."His Excellency the President, while we were in the Opposition, as the Leader of the Opposition, did in fact move a motion in the National Assembly speaking about the conditions under which veterans live. We feel when you look around and you look at the conditions under which veterans live, [these] conditions need to be examined, and that was the whole purpose of this inquiry. Going forward, we need to look carefully at the recommendations that were made in the inquiry, and try to implement them as far as (is) practicable and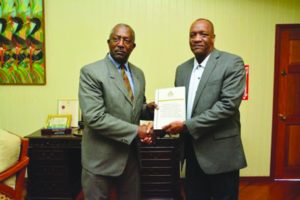 as far as (is) possible," he said.
And Colonel (retd) Roberts, in an invited comment, said that while the Report could have been brief, he had decided that the true reality of the conditions under which the veterans exist should be reflected in the Report; and as such, the team had embarked on a countrywide mission in this regard."What happened is that we decided to go and meet people; so, rather than just speak to the senior people, we decided to speak to people who are actually in the field. We spoke to veterans, we spoke to organisations, we spoke to almost 200 people; so it was a quite interesting exercise, and we (heard about) all kinds of problems, all kinds of issues, and we tried to put (those) together as a comprehensive analysis in the Report," he said.The Commission visited Regions One, Two, Five and Six, and the main military bases (Sewayo, Stevenson and Ayanganna) to interact with and get the views of current officers. The Commission also worked closely with the Guyana Veterans Legion and the Regional Offices to reach out to as many veterans as was possible, including those in the hinterland and overseas. The Commission investigated and made recommendations in the areas of living conditions, current pensions, medical benefits, injuries on the job, and compensation, among other issues.In 2015, at a Remembrance Day reception, President Granger had announced the convening of a National Veterans' Commission to look into the living conditions of veterans and make recommendations for improvements. On that occasion, he had also announced the return of a fixed annual State subvention for the Guyana Veterans' Legion.