… as Joint Services conduct manhunt for escapees
In light of yet another prison break, which saw the escape of 13 inmates, who were detained at the Lusignan Prison on Monday, citizens residing within the vicinity of the East Coast Demerara backlands are troubled by a series of alarming activities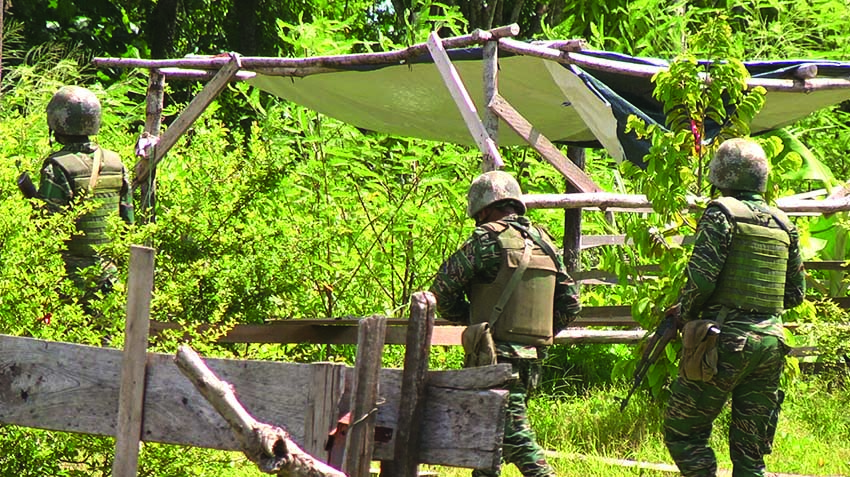 which continue to unfold within the area.
This is since the massive fire that razed the Camp Street Prison, leaving hundreds of inmates displaced while a number of high-profile criminals remain on the run.
Such a state of national crisis has forced the Joint Services to heighten security measures, especially along the coast, often resulting in ranks now being seen patrolling certain areas at odd hours of the day. This is paired with a number of spontaneous search operations, leaving residents questioning the severity of matters which have drawn the manhunt to their communities.
One such situation manifested on Monday, when hours after the news broke of the Lusignan Prison break, ranks were seen conducting search operations in the backlands of Success on the East Coast of Demerara.
When Guyana Times visited the area, residents were seen frantically overlooking the activities, awaiting news as to whether or not the officers were successful in the search to capture the escapees.
Speaking to this publication were two women of the community, who had chained their gates and were seeking refuge behind their fences. The concerned residents told this newspaper that the Police showed up enquiring about the spotting of four strange individuals within the area.
Moments later, a helicopter was seen hovering over the backlands beyond the community, which was followed by an army of reinforcement who quickly progressed into the sugarcane fields. At the time of the search operations, a group
of youngsters were swimming in the trenches adjoining the fields and they were rushed out of the backlands by the ranks carrying high- powered weapons.
Subsequently, a small crowd accumulated at the entrance to the backlands, during which the residents expressed their concern regarding their safety. One resident revisited a recent incident which took place as her family member was heading into the backlands on his regular fishing trips. She relayed that the man was greeted by an individual wearing a disguise, with only his eyes visible. The woman noted that her relative did not hesitate to flee the area. Meanwhile, a member of the Community Policing Group (CPG) indicated that he received a report that ranks were acting on the suspicion that prison escapees were seeking refuge in the backlands within the environs of Success. However, the search operations conducted in the area on Monday were to no avail.
The manhunt continues as Police officials on Monday indicated that security measures would be beefed up along the coast. On that note, the Guyana Police Force is calling on residents to desist from venturing into the backland areas while urging farmers to reduce the amount of time they spend in the backlands. At the same time, they are advising that the public remains calm but alert as the search intensifies and to report cases of any suspicious activities.