Oil and gas development
Natural Resources Minister Raphael Trotman has said that Guyana is getting the help in needs to welcome the oil and gas sector when it expectedly takes full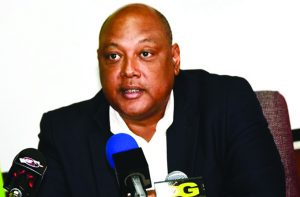 steam in 2020, but Government has recently been criticised for its unpreparedness in dealing with this sector.
Trotman told Guyana Times that while he does not have the specific details of the arguments made by Opposition Leader Bharrat Jagdeo, Guyana has partnered with several upright international agencies to assist with building capacity in the new sector, and these exercises will continue.
The minister listed a number of agencies which are currently lending support to Guyana. These include: Chatham House, Metric and Petroleum Institute, Commonwealth Secretariat, U.S. Government Energy Governance and Capacity Initiative (EGCI), International Monetary Fund, the World Bank, and the Inter-American Development Bank, among several others.
"We have experts of every kind in-country. The IMF team is advising on the Sovereign Wealth Fund. Last week the IDB had a team here. We have more experts than we can handle," he added.
Trotman has additionally reminded that the Government has hired Dr Jan Mangal, an expert in offshore and civil engineering, as Petroleum Advisor in the Ministry of the Presidency (MoTP), and he made it clear that there is no rush to pass the Petroleum Commission Bill.
Jagdeo told a recent press conference that the Government has made little to no attempt to acquire the necessary skills in preparation for the oil sector. He also expressed fear that, because of its lack of capacity, Government could be outmanoeuvred by US oil giant ExxonMobil.
The Opposition Leader has said that Trinidad and Tobago had received a raw deal from this US company, but if Guyana prepares itself well before oil drilling begins, it stands to benefit substantially. He reminded that Government has the responsibility to protect the country's national interest, and declared that his lack of confidence in the current administration lies in its inability to lead technical negotiations with the US oil giant and/or other major oil companies.
While information in regard to the oil and gas sector has not been forthcoming, Jagdeo has said that, in the name of transparency, Government should reveal to the Opposition who Guyana's lead negotiators are, and what the negotiation briefs are about, so that the opposition can share its views.
Although Guyana is set to begin producing commercial quantities of oil in 2020, the Opposition believes Government is placing too much focus on that emerging sector, and forgetting about the other productive sectors in the local economy that continue to provide hundreds of jobs to Guyanese.
Jagdeo is of the firm belief that if this trend continues, Guyana's future will be squandered. He said this is the main reason why he has referred to Government as having a "banana republic" mentality — where heavy focus is placed on one single sector to the neglect of all other industries, similar to what happened in Central America, where the term was coined.
ExxonMobil had, earlier this year, discovered a massive oil field measuring about 6.6 million acres, with reserves estimated at up to two billion barrels. When production begins in 2020, some 100,000 barrels of oil will be produce per day.