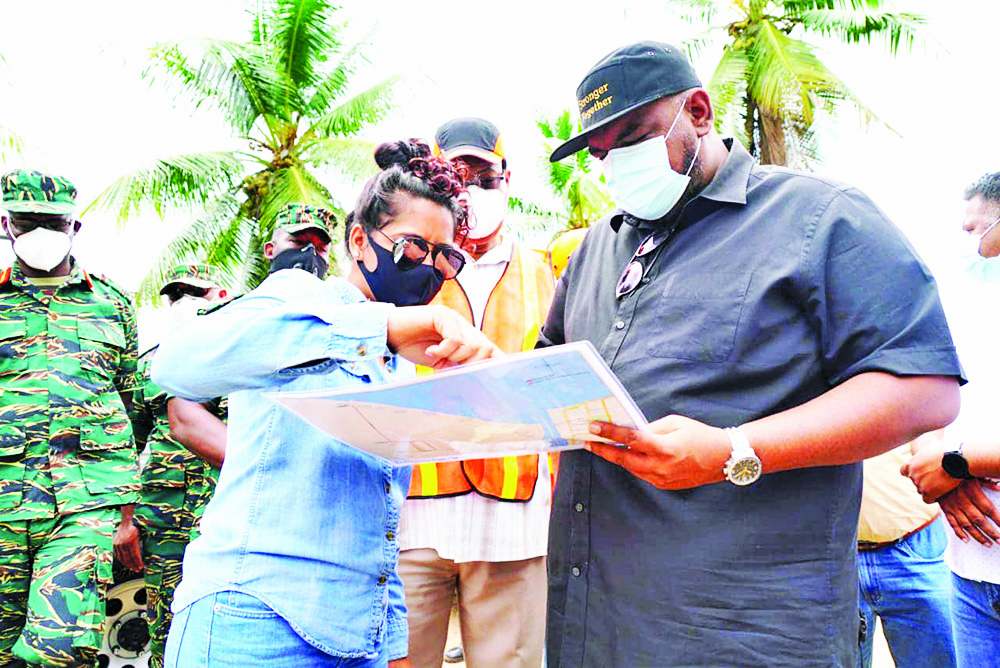 As the People's Progressive Party/Civic (PPP/C) Government opens up new lands to push its infrastructural development agenda, it is encouraging Guyanese, especially the young people, to take advantage of the opportunities that will become available.
Only Saturday, President Irfaan Ali led a high-level Government team to visit the proposed sites for a new four-lane highway linking the West Bank of Demerara (WBD) to Parika, East Bank Essequibo (EBE) in Region Three (Essequibo Islands-West Demerara).
The alternative road will be linked to the new Demerara River bridge at the eastern end and will be connected to the Parika to Bartica road.
President Ali said on Saturday that this new highway would pave the way for massive infrastructural development and also create new opportunities in the areas of agriculture, tourism, housing, and industrial and commercial development.
In fact, a team of local experts was put together to map the area for the new highway and come up with a design plan. Notably, however, the team is comprised of young Guyanese professionals.
The President pointed to the importance of the local content component as well as youth involvement in the development of not only Region Three but the entire country.
"We are putting together a local team…we are bringing them together to commence the conceptual work in laying out this new highway… It is exciting times for Guyana, exciting time for young people," the Head of State posited.
In the same vein, Public Works Minister Juan Edghill, who was also a part of the high-level Government team, urged young people to tap into these opportunities.
"We put in Budget 2020 that we're giving special incentives to plantation agriculture – corn and soybeans. So, with this kind of work that we're doing here today, it is also an invitation for young professional Guyanese who want to invest, professional class Guyanese who want to invest [to do so]," Edghill noted.
The Public Works Minister, who had presented the PPP/C Government's first budget in September, had announced that special incentives, inclusive of land, would be made available for planting of corn and soybean to satisfy local and regional mill demands.
"We will continue to actively promote crop diversification and create incentives for farmers to invest in non-traditional crops… It is our intention to ensure that no effort is spared in diversifying our economy, cognisant of the potential of Dutch disease," Minister Edghill had stated in his budget speech.
As such, he reiterated on Saturday that Guyana's oil and gas industry will only be a proportionate component of the country's economy, while emphasising the need to develop other critical sectors.
He pointed to the endless possibilities that will become available in Region Three once the new WCD highway as well as the new Demerara River bridge are constructed. Government is looking to construct a four-lane, high-span fixed bridge from Nandy Park, on the East Bank of Demerara, to La Grange, WBD.
Meanwhile, simultaneous to infrastructural developments Edghill outlined his Government's plans to add some 400 megawatts of electricity, via gas to power and hydroelectricity, to the grid to bring reliable electricity at a low cost to Guyanese.
According to the Public Works Minister, this will allow for more agro-processing ventures as well as manufacturing and industrialisation.
He further stated that with the liberalisation of the local telecommunications sector, Guyana's ICT sector is also pegged for major development as more fibre optic cables will be brought in. Already, Government has been talking about the establishment of call centres across the country to provide employment opportunities for Guyanese.
Moreover, the PPP/C Administration has taken a number of actions to ease the burden of doing business in Guyana. Budget 2020 saw the reduction and/or reversal of several burdensome tax measures, and the removal of VAT (value-added tax) on machinery and equipment for agriculture and mining, among other initiatives.