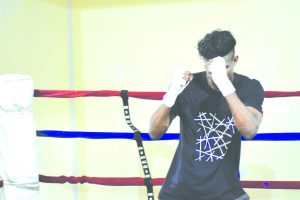 The Briso Promotion's 'Return of the Scorpio' pro-am boxing card has a number of exciting bouts lined up for today, Saturday, June 3, but the one that is most highly anticipated is an 8-round bantamweight battle in which Guyanese-born, USA-based Elton Darry would clash with Colombia's Ramos Ronald.
Ahead of today's headliner, Dharry, in an exclusive sit-down, told Guyana Times Sport about his preparation, and the importance of today's fight.
"Preparation was great! I feel good! I've been training in turn for quite a few months now, and got quite a few (changes)-of-fate and setbacks coming back home; but I'm excited to be here! I'm ready!" Dharry has declared.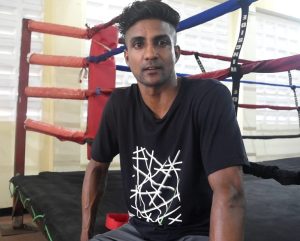 The boxer added, "I've been training very hard to get myself back in the right — you know — shape mentally and physically; not just for this fight, but future fights. I'm feeling great in training, so I need to handle what's in front of me (on) Saturday night. I can't jump ahead of time and look past my opponent; so, let me take care of that first."
Dharry sees his upcoming fight as a tune-up for his WBC Silver Belt challenge, which will come in July against Mexico's Hugo Hernandez, and will be hosted on local shores.
Discussing his love for fighting in front of the Guyanese fans, Dharry revealed what to expect, come Saturday night.
"I'm always motivated coming here, because this is home to me. This is where I was born and raised, where I had my first professional fight. So, this is my most important location in my professional career, and I'm always excited to be here in front of my people," the pugilist explained.
"Expect Elton Dharry to be Elton Dharry! Be myself and, you know, give a good show and represent my people," he added about what to expect tonight.
The 'Return of the Scorpio' pro-am card is set for the National Gymnasium on Mandela Avenue in Georgetown.