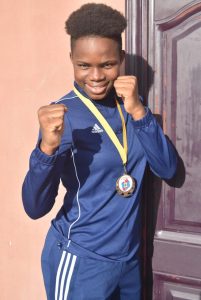 Briso Promotions' "Return of the Scorpio" pro-am card on Wednesday confirmed another international talent to feature in the May 21st, 2023 boxing extravaganza to be staged at the National Gymnasium on Georgetown's Mandela Avenue.
Out of Jamaica, the proverbial Land of Wood and Water, comes a boxer who is expectedly tough enough and sufficiently savvy to take on Guyana's young sensational female boxer Alesha Jackman in an amateur clash.
Jamaica's Britney McFarlane, who will be accompanied to Guyana by her Coach Gilbert Valz, is slated to arrive on these shores on Friday, May 19th, and a monumental clash is anticipated between her and Alesha on fight night.
This is the second international fixture that has been confirmed for the amateur section, as Trinidad and Tobago champion Lee Ann Boodram will enter the squared circle against Abiola Jackman, Alesha's sibling. The Trinidad and Tobago fighter will arrive on local shores on Saturday, May 20th for her fistic engagement.
The Jackman sisters are the first-ever Guyanese female pugilists to attain world ranking from the International Boxing Association (IBA), after their participation at the Women's World Championships in New Delhi, India. Abiola Jackman is now ranked 27th in the world in the Elite Women 81-and-over Kg, or heavyweight division. Alesha is seeded 58th in the Elite Women 60-63 Kg, or junior welterweight division.
GBA President Steve Ninvalle has said, "The confirmation of Jamaica's participation, coupled with Trinidad and Tobago's established attendance, has firmly concretised this card as an international endeavour.
"What is exceptionally noteworthy is that female pugilists will take centre stage in the amateur section, which is a momentous achievement and a watershed moment for the discipline. Additionally, the confirmed participation of our Caribbean counterparts will certainly raise the event's already-established international profile, and will act as a catalyst for the publicising of the female game."
He further said, "The GBA has once again illustrated its unwavering commitment to the development of female boxing, which has pellucidly taken centre stage in 2023 via local events and international sojourns and campaigns. The association remains dedicated to elevating every aspect of the sport, with particular emphasis on empowering the female component, which in previous eras was neglected.
"This is our evidential and unwritten mandate for 2023 and onward."
In what is anticipated to be the biggest fight night in a decade, the Briso Promotions' pro/am card is being projected to surpass the atmosphere, ambience, and overall quality of the recently staged Patrick Forde Memorial Championships, which were hailed as the benchmark for a local boxing event.
Meanwhile, five exciting professional bouts and an equal number of amateur engagements are confirmed for the impending fight night, which will be headlined and co-headlined by Elton Dharry and Dexter 'De Kid' Marques respectively.
Dharry will enter the squared circle against Ramos Ronald in an eight-round Bantamweight fixture, while Marques will battle Luis Carrillo in an eight-round Super Bantamweight encounter.
A Caribbean rivalry will also resume on fight night, as Terrence Adams is pencilled to face off against Barbadian Ricardo Blackman, while Anthony Augustin will match skills with Emmanuel Anderson of Barbados. The card will also feature a six-round Super Flyweight bout between Natalya Delgado and Darianis Garcia.
The May 21st fight night will mark Dharry's return to the ring in over a year, and will serve as a tune-up for his July encounter on local shores with Hugo Hernandez of Mexico for the WBC Silver Belt. Dharry, 37, fought for the WBA Super flyweight title in 2019, but suffered a controversial ninth-round stoppage loss to Australian Andrew Maloney in Melbourne.