In effort to see a continuous rise in excellence in the lives of youths, both academically and in extra-curricular activities, the Rose Hall Town Youth & Sports Club (RHTY&SC) recently made noteworthy donations to four secondary and one primary school in the Lower Corentyne area under its campaign Say No/Say Yes Programme and Patron's Fund.
The schools benefitting from the contributions were Lower Corentyne Secondary, J.C. Chandisingh Secondary, Port Mourant Secondary, Corentyne Comprehensive Secondary and the Rose Hall Town Primary School.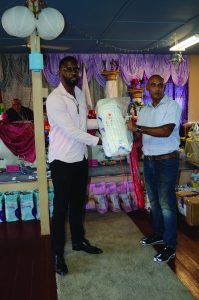 The Rose Hall Town Youth & Sports Club, under the Patron's Fund, assists schools, churches and non-governmental organizations (NGOs) from the million-dollar donation made to the Club by its Patron, His Excellency President David Granger. The monetary donation was allocated between the schools in the forms of sporting equipment, while the Rose Hall Town Primary School received a $50,000 cash donation to assist construction of the school's benab.
President of the Berbice Cricket Board (BCB) and Secretary/CEO of RHTYS&SC, Hilbert Foster, related that the RHTY&SC is totally committed to making sure that every student in the educational sector fulfills his/her potential in the classroom and on the sport field. Special emphasis, he said, would be placed on football, volleyball and basketball during 2018, and the club would try to assist schools in the Lower Corentyne as much as possible. Foster also urged the schools to use the donation to produce basketballers, footballers and cricketers for the club's structure, continuing the club's rich history of producing talented athletes.
The Lower Corentyne Secondary School has been a productive cricket nursery for the RHTY&SC over the years, and the donation of cricket gear was made to assist the school to participate in cricket tournaments. Players like Kevlon Anderson, Junior Sinclair, Keith Simpson and Keon Sinclair are all products of the school, and they have gone on to play for Guyana's five-time Club of the Year.
The BCB president pledged the RHTY&SC's continued cooperation, as the Club cherishes its relationship with all the schools in the Rose Hall Town attachment area.