Rice farmers living in the agricultural district of Region Two (Pomeroon- Supenaam) are requesting tax exemptions on all agricultural machinery, saying that Value Added Tax (VAT) being charged on the equipment was an extra burden to the industry.
Many of the rice farmers spoke out at a recent meeting held with Agriculture Minister Noel Holder at Anna Regina. One rice farmer from Maria Delight, Mohammed (only name given) said that extra taxes were creating frustrations within the industry. He explained that the rice industry was bombarded with many taxes and as such, requested for duty-free waivers on all agricultural machinery.
Mohammed said that farmers were already faced with tonnes of challenges complemented by high rates and taxes on their lands and it was wise for the Government of Guyana, along with the Agriculture Ministry to consider this request. Other farmers said that the increase of VAT on agricultural machinery would result in them spending more per crop hence less profit.  "We are face with so many challenges, including flooding, pumping of water, poor drainage, loans at the banks, high taxes on lands, now we have to pay more VAT. Where we are really heading to?" the farmer questioned.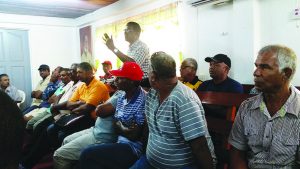 A large-scale farmer also said that he had to spend more to purchase a tractor and a combine harvester since the heavy prices created through the VAT system were creating burden on rice farmers. Large-scale farmers have requested theMinister to assist in helping farmers with duty-free Waivers and to implement a system to assist the industry.
In responding, Minister Holder said that VAT has to be charged so that all infrastructure, such as roads, could be built for the benefit of residents.
However, Permanent Secretary for the Agriculture Ministry, George Jervis said that VAT was exempted only in special circumstances and if a farmer wished to receive duty-free concessions, then he or she would have to go through GO-Invest then the Agriculture Ministry. Jervis said the system has changed and now GO-Invest was handling the duty-free programme; however, the Ministry can make recommendations on behalf of rice farmers. Currently, rice farmers are busy preparing for the rice harvesting period and over the past few days, a large amount of water has accumulated in their fields, hence they were forced to pump water. (Indrawattie Natram)