Parking meter burden
– protesters continue to demand revocation of contract
As the anti-parking demonstrations continue, protesters are once again demanding that City Hall revoke the contract, which is seen as burdensome and, according to many, has adversely affected business in the city since its implementation.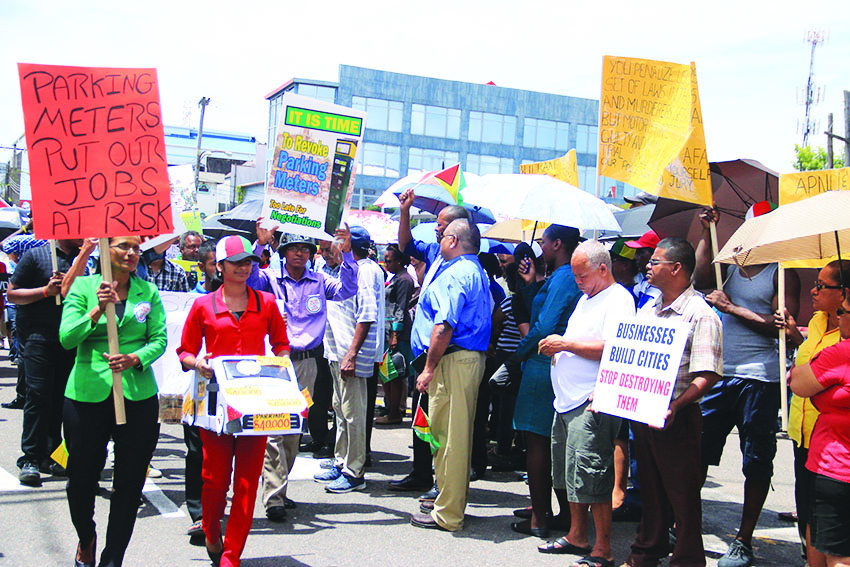 The protest, now the fifth in a row, was organised by The Movement Against Parking Meters (MAPM) group, which was formed in response to the public outcry over the parking meter project.
On Thursday, the Water Street Mourners returned and led the march to a timely Dave Martins ballad, "Postpone", which highlighted many of the noted burdensome measures meted out to the public. The song, which was played by a push-cart vendor, calls on the relevant authorities to rescind the contract, which was signed by three members of the City Council and Town Clerk Royston King with Smart City Solutions Inc (SCSI).
Political commentator Ramon Gaskin said the Mayor and City Council must respond to the protest actions.
"They're not budging yet and because of that, we have to keep up the pressure and keep up the struggle until they remove from this country," Gaskin stressed.
Another protester called on donor agencies from the European Union, United States and Canada to withhold their funding until a more transparent process was rolled out, highlighting the secretive nature of City Hall's contract with SCSI.
A young worker, who identified herself as "Tiffany", called on President David Granger to look into the protesters' concerns.
"I would like the President to know that we are talking directly to him…I would like him to intervene because it's affecting the entire Guyana and we don't like it; we don't want it. It's sad enough that we already have to pay VAT (Value Added Tax) on light, water, the majority of zero-rated items; we have to pay VAT on school fees, it's so much," "Tiffany" noted.
Others reiterated their concerns over the booting of vehicles; local actor Chris Gopaul told this publication that "no one walks around with $9000" for it to be paid over in fines to City Hall. Veteran human rights activist Denise Dias, who also pointed to the burdensome fees, stressed that "no one on earth" conducts transactions in just 15 minutes, which is the shortest time available for paid parking in the city.
The parking meters rolled out to much criticism on January 24, and the protest against it continues.