– millers still to decide prices
By Indrawattie Natram
Rice harvesting has commenced in several villages along the Essequibo Coast in Region Two (Pomeroon-Supenaam), and farmers from Capoey, Queenstown and Affiance have expressed satisfaction with their yields, but are concerned at the pricing and grading systems.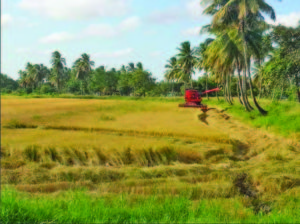 One farmer from Capoey who took his "loads of paddy" to Imam Bacchus and Sons has reported not receiving any price for the loads he took.
"You see, the thing about paddy (is) you really can't store it for too long, so you have to take it straight to the available millers," the farmer explained.
Other farmers have called on relevant authorities in the agricultural sector to represent their interest. They have also expressed concern at the weighing system.
One rice farmer has said different mills have 'different weights,' even as he called on officials from the Guyana Rice Development Board (GRDB) to look into both the grading and weighing systems.
Contacted by this newspaper, a representative from Imam Bacchus and Sons explained that the company is accepting paddy, but the purchase price is yet to be decided on. The representative explained that prices offered farmers are influenced by prices offered by "bigger millers" and the markets for rice.
A representative from Golden Fleece Rice Investment, owned by Nazeemul Hakh, explained that that entity also has not yet decided on its purchasing price for paddy, because it is waiting on other millers to bring out prices. Golden Fleece Rice Investment was the largest purchaser of paddy from rice farmers during the last crop. Rice farmers are currently taking their paddy to mills without any idea what they would be offered. Last crop, they were offered $2000 to $2500 per bag, and most of them were given low grades. The lowest grades (C grade) were purchased at $1500 per bag.
Rice farmers are hoping that millers would be more loyal to them this crop, and offer them better prices so that the industry can be sustained. Region Two is predominately an agricultural region, with more than 38,000 acres of land under rice cultivation.