Limacol Football Tournament 2019…
ꟷ Pele, Dynamic battle to fiery stalemate
Pele Football Club and Dynamic FC had to settle for shared points in their second round encounter after a clash of youth and experience.
Playing at the Ministry of Education Ground, Carifesta Avenue, Pele and Dynamic, having both registered wins in the first round of competition, were pitted against each other as the fourth edition of the Limacol Football tournament continued on Friday evening.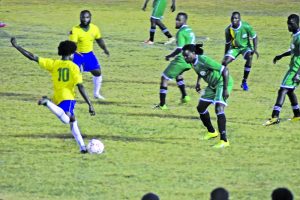 Dynamic's Julius Hamilton was the first player to find the back of the net, in the 4th minute, to give his team a crucial advantage over the eager Pele youths. The lead was however short-lived as young talent Dorwin George got past the Dynamic goalkeeper in the 18th minute to level the scores.
Hamilton however returned in the 37th minute to re-establish the Dynamic lead, and after the half, completed his hat trick in the 51st, making Dynamic look comfortable with a 2-goal lead.
But the Pele boys, determined to pull off a win or at least a draw, made a heroic come back, with Captain Marl Jhalu finding the back of the net in the 54th minute, while Akosie Jarvis levelled the scores in the 58th.
Neither side was able to find that goal that would make the vital difference, so each had to settle for a 3-3 draw.
The following encounter saw Pouderoyen facing off with Riddim Squad in a quest to acquire the first points of the tournament. A relentless Riddim Squad were however again able to pick up their second win.
Kevin Gordon opened the Riddim Squad scoring against a hapless Pouderoyen outfit in the 10th minute, and Michael Charles added to the tally in the 24th.
And as Pouderoyen, again unable to connect with the nets, watched all their attempts at goal go astray, Kevin Gordon returned to complete his brace in the 53rd, handing Riddim Squad a 3-0 victory.
The New GPC Inc-sponsored Limacol Football Tournament will continue tonight with another double-header. At 19:00hrs, Camptown will take on Black Pearl; while at 21:00hrs, Fruta Conquerors Under-20 will hunt their second win when they face off with Georgetown Football Club (GFC).
This tournament, also supported by W.J Enterprise, will reward the winner with $400,000; while second, third and fourth placed teams would respectively receive $200,000, $100,000 and $50,000.