After today's highly- anticipated cycling race at the National Park at Thomas Lands Georgetown, the country's top cyclists will assemble in Berbice on Sunday September 15 for another such highly-anticipated event.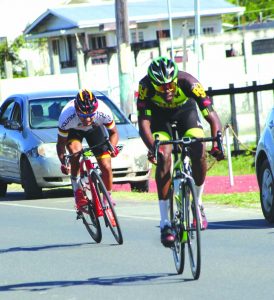 This Berbice event is jointly organised by Club Fiesta, the Jagdeo Racing Stables, DJ Dauren, and Jugernauth Entertainment, and has the collaboration of the Rose Hall Town Council. Moreover, the Trojan Cycling Club is on board this event.
This race will commence at 8:00h from the Rose Hall Town Arch Road, and participants will travel to Number 53 Village, Corentyne before returning to conclude activities at the point of origin. In addition to the Open and Junior categories, the Veterans, Ladies and Juveniles will be on show.
This race has the following rewards: Open category winner would receive $50,000; second placed rider $25,000; third placed rider $15,000; fourth placed rider $10,000; fifth placed rider $8,000, and sixth placed rider $5,000.
Winner of the Veteran category would receive $10,000; second placed rider $9,000, and third placed rider $6,000.
Winner of the Ladies category and winner of the Juveniles category would each receive $5,000.
Persons wishing to participate in this race have until 7:30h to register.
There are 10 prime prizes of $1,000 to be awarded to the best sprinters throughout the race.
Top riders Romello Crawford, Balram Narine, Andre Green, Ajay Gopilall, Curtis Dey and Andrew Hicks who will represent Berbice will find themselves facing worthy opponents in Jamaul and Briton John and Paul De Nobrega, among others, who will represent 'the city boys' as the battle for supremacy on the Berbice highways is enjoined.