The rift between Opposition Leader Aubrey Norton and his former political advisor Dr Richard Van West-Charles, who is recently reported to have resigned that role, will be addressed at a Central Executive Committee (CEC) meeting on Tuesday.
In December of 2021, Aubrey Norton and Richard Van West-Charles were challenging each other for the role of People's National Congress Reform (PNCR) leader. After Norton triumphed, he appointed Van West-Charles as one of his advisors, alongside now parliamentarian Volda Lawrence.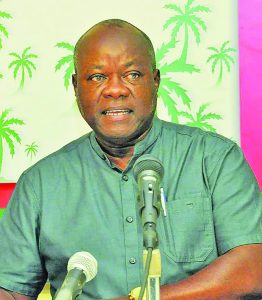 But the relationship seems to have soured, with Van West-Charles recently being reported to have said in a Notice of Withdrawal that Norton was sidelining him, refusing to call meetings of the party's executive and that he would be resigning as advisor.
Accusing Van West-Charles of using him as a scapegoat, Norton addressed these reports during a press conference on Tuesday where he denied reports that Van West-Charles was being sidelined and assured that the party's executive would be discussing the matter.
"All I would say to the press about Mr Van West-Charles, and this is before I discuss it with the party, Mr Van West-Charles has been pushing for me to engage the People's Progressive Party, through him."
"And I made it clear to him, that I cannot engage the People's Progressive Party, without a decision of the Central Executive. And I have on my phone, at least two messages from him that would verify that is the direction he was going in," Norton said.
The Opposition Leader admitted that no meetings were held at Congress Place thus far this month, but attributed this to the party's busy schedule. In the same breath, he labelled Van West-Charles' claims that he does not call meetings, as untrue.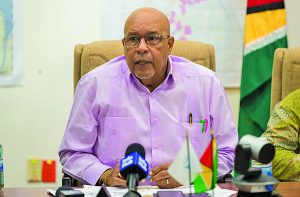 "I note he said as well, that we do not call Central Executive. Which is an untrue statement. The Constitution provides for the Central Executive to meet at least once per month. We met in January at least twice or thrice. We met in February, at least twice. We met in March once or twice."
"Because the latter part of March, I think from the 18th, I was out of the country. And this month, we've had a busy schedule and we're meeting this evening. So, all the claims, I think are ridiculous," Norton said.
President Dr Irfaan Ali had already signalled his intention last week, to meet with Norton in his capacity as Opposition Leader, within two weeks, where the various pending constitutional matters would be resolved.
The Head of State told media operatives on the sidelines of an event last week Wednesday that the Opposition Leader would be in receipt of an invitation in this regard, though up to Tuesday Norton said he had not received such an invitation.
Among the appointments to be discussed are those for the Police Service Commission, Public Service Commission, Teaching Service Commission, Judicial Service Commission, and the Integrity Commission. The appointments of a Chancellor and Chief Justice are also pending.
Earlier this year, Prime Minister Brigadier (retired) Mark Phillips had called on the A Partnership for National Unity/Alliance For Change (APNU/AFC) coalition to move with haste in filling this important position, noting that the PPP/C Administration stands ready to work with the new leader in the interest of Guyana.
This was in conjunction with Vice President Bharrat Jagdeo indicating that President Ali was hoping to consult soon with the Opposition Leader and bring closure on the reinstatement of a number of constitutional service commissions, which has been delayed for some time.
The President has contended in several reports that while he is not averse to engaging APNU/AFC, the coalition party continues to show disdain for the will of the people who elected the PPP to Government with 233,336 total votes in the 2020 General and Regional Elections. (G3)