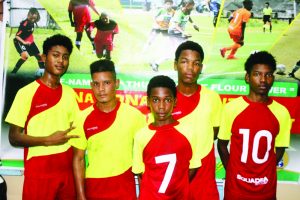 Rising Stars Football Club swamped Beacons Football Club 5- nil in a match in the Bartica Football Association's (BFA's) leg of the GFF/NAMILCO Under-17 League played on Thursday at the Bartica Secondary School Ground.
Having been put on a short pause to accommodate some of the other BFA programmes, play in this league recently resumed; and in the match being reported on, two goals came from the boots of Regan Kippins, while one each was scored by Ian Gomes Jr, Joshua Jones, Daniel Williams and Ian Yaw.
As soon as the match commenced, Rising Stars wasted no time before flexing their muscles to show their opponents why they are table-toppers in the league. They continually flustered the Beacons side, and constantly forced them to play on the defensive.
The nifty Regan Kippins blasted in two goals in the early stage of the match to place Beacons at a two-goal deficit. Nothing worked for the Beacons in this match, and switching tactics and making substitutions were all done in vain as Rising Stars scored the last three goals to close the casket on the Beacons' hope of a comeback.
Play continues during the course of the week with Potaro Strikers FC coming up against Lazio FC, Mil Ballers FC taking on Agatash FC, and Rivers View FC duking it out with Beacons FC.
With a format similar to that of the Frank Watson Under-15 tournament, the NAMILCO Under-17 tournament will first be played at the Regional Member Association (RMAs) level, before there is a grand playoff with the nine winners to crown a national champion.
The league is part of the Youth Development Programme of the Guyana Football Federation (GFF), through its Regional Member Associations, and is being held in partnership with the National Milling Company (NAMILCO).
The clubs that are competing in this tournament are Beacons, Lazio, Rising Stars, Potaro Strikers, Mil Ballers, Wolves United, Rivers View, and Agatash United.