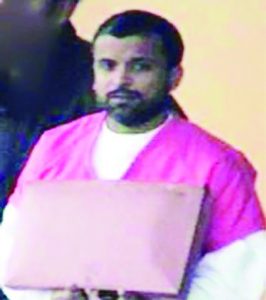 Shaheed "Roger" Khan, who was convicted of smuggling drugs and sentenced in 2009 to serve 15 years in a United States prison, is expected to be deported to Guyana on Monday.
However, while there is much speculation on what investigations the Guyana Police Force may want to carry out, the Force is making preparations but is not ready to announce them.
This is according to Crime Chief (ag), Michael Kingston, who made that disclosure during an interview with Guyana Times on Saturday.
"Well, there is a plan but I don't think we are prepared to disclose it at this point. Mr Khan will be treated like any other deportee that has been sent back to Guyana. That is, being escorted from the airport to the CID headquarters – that is the process," Kingston told this publication.
Although tight-lipped about what could be expected once Khan arrives at these shores, Kingston stated that while there will be no "special" treatment meted out to him, adding that the police have work to do.
"Whatever matters, allegations have been made against him, those will be investigated. He will [be] treated like every other deportee that is being deported from the States. All deportees coming in normally are escorted to CID headquarters," the Crime Chief (ag) added.
However, Commissioner of Police, Leslie James when approached about the topic of Khan's deportation to Guyana on Saturday also told this publication that there is "nothing special about Roger Khan".
"There is nothing special about this. He has served his time overseas already, hasn't he? There is nothing special about Mr Khan."
In March, Khan had filed a petition which he had prepared himself for early release from the US prison, pursuant to good-time credit acquired under the First Step Act (Formerly Incarcerated Reenter Society Transformed Safely Transitioning Every Person Act) – which revises sentencing laws and expands re-entry and early release programmes.
He challenged the Federal Bureau of Prisons' (BOP) failure to properly calculate and award his good-conduct credit and as such, filed an emergency petition for a writ of habeas corpus, which is a writ requiring a person under arrest to be brought before a judge or into court, especially to secure the person's release unless lawful grounds are shown for their detention.
The court documents prepared by Khan himself and seen by Guyana Times, state "Comes now, Shaheed Khan, petitioner pro se, and prays this court to expedite this emergency petition for a writ of habeas corpus… because the time required for a normal briefing schedule will result in the incarceration of petitioner beyond the length of sentence he is supposed to serve".
According to the petition, Khan wanted the US court to order the BOP to recalculate his good-conduct credit under the First Step Act, which would see him being released earlier than July.
Khan had explained in the emergency petition that the First Step Act was signed into law by President Donald Trump in December 2018 and seeks to ensure that all inmates within the Federal Bureau of Prisons receive the full 54 days of good-conduct credit, since the BOPs' previous "erroneous interpretation" resulted in inmates only receiving 47 days per year in actual practice. However, after several court hearings, the petition was denied.
Khan was sentenced in 2009 to 15 years' imprisonment after he pled guilty to arms trafficking, drug trafficking, conspiracy and witness tampering. He was nabbed in neighbouring Suriname back in June 2006 after fleeing Guyana.
In October 2015, former US Ambassador to Guyana Perry Holloway had told local reporters, when asked, that there is a possibility for the Guyana Government to access Khan's testimony in the US courts. He had noted, however, that while there is a process to follow which has high requirements, his country would cooperate if the necessary procedures are followed.
"If the rules and regulations of the agreement are done with Guyana, or we have signed up under the UN or OAS to allow for such a thing, we would be sure to be disposed to cooperating within the framework of the rule of law," the US Ambassador had stated.
In response, President Granger disclosed a few months later that as part of efforts to probe extrajudicial killings in Guyana, if there are connections to him, then the Guyana Government will seek to engage him.