By Michelangelo Jacobus
Having been awarded full University of Guyana scholarships on the heels of their commendable performances at this year's CARIFTA games young athletes Claudrice McKoy and Onassha Rogers were scouted by Munroe College and were later awarded full scholarships by the overseas institution.
The National Sports Commission has now made a decision to give the two athletes the yearly amount that they would have received were they to attend UG, in a gesture of commitment to Rogers and McKoy.
This was revealed by the Director of Sport, Christopher Jones at the signing of a MoU (Memorandum of Understanding) at the NSC Head Office on Homestretch Avenue.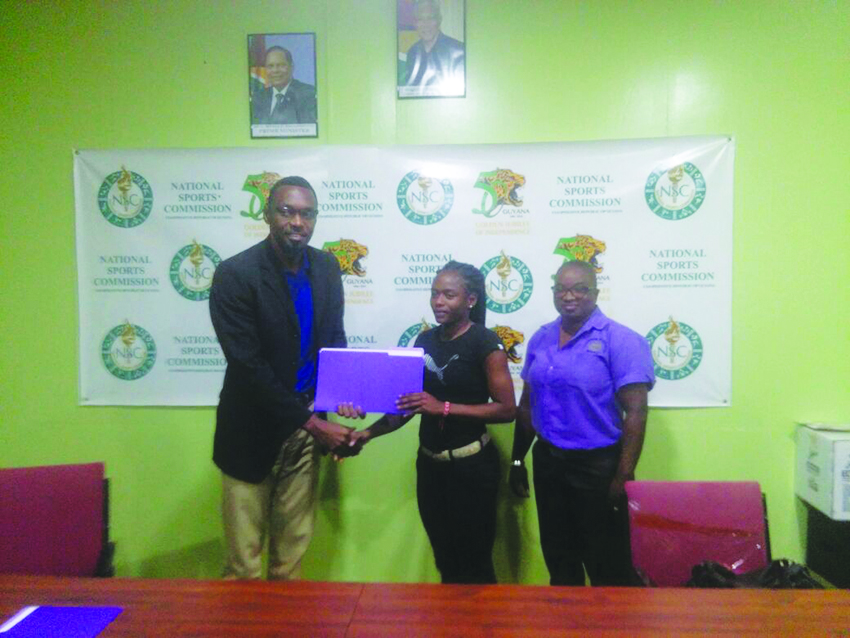 "The National sports commission because of the commitment we made to the athletes for a full scholarship to the University of Guyana and wanting to be committed to that commitment we made, the National sports commission will make available to these two athletes, namely Onassha Rogers and Claudrice McKoy the same sum that would have been used to attend the University of Guyana. In the agreement it is on a yearly basis to the amount of $230,000 a year for four years" Jones explained.
The yearly sum ($230,000) includes the $50,000 "miscellaneous fee" which students at UG normally have to pay.
Rogers whose major at Munro College would be Criminal Law, thanked the Director of Sport and maintained that she will do her best to represent Guyana creditably.
"Thank you to the National Sports Commission and Mr Christopher Jones for this contribution made, I'm very excited and happy to have this opportunity to go further my studies. I promise to go out there to do my best, make Guyana proud, my family and the government of Guyana" Rogers told the media.
Rogers, a powerful sprinter and middle distance specialist and McKoy are set to depart the Land of Many Waters on August 18 for the United States of America to take up respective places at Munro College.