…GECOM's Sase Gunraj to testify at election CoI today
Former Commander of Region Four Police Division Edgar Thomas, on Wednesday testified under cross examination that while at the Ashmin's building during the Region Four tabulation, he had feared for the life and safety of Guyana Elections Commission (GECOM) Commissioner Sase Gunraj, from rogue elements of the Police Force.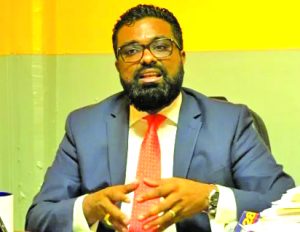 Assistant Commissioner of Police (ACP) Thomas was questioned by Attorney-at-Law Nigel Hughes during Wednesday's proceedings in the 2020 General and Regional elections Commission of Inquiry (COI).
Hughes, who is representing former GECOM Deputy Chief Elections Officer (DCEO) Roxanne Myers, used the session to cross examine Thomas and other witnesses who previously implicated his client.
Thomas explained that during the Region Four tabulation, Target Special Unit (TSU) ranks entered Ashmins building without him summoning them. He said that even though he sent them away, even more returned, heavily armed – at which point, he warned the GECOM Commissioner who was present, Gunraj.
"After my colleagues, fellow police officers, would have entered the Ashmin's building, heavily armed, I would have said to Mr Gunraj, I can no longer protect him… I knew definitely I was unable, at that time, to protect the life of Mr. Sase Gunraj."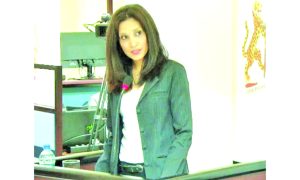 "Because I'm no longer in control of the operation… I considered (the actions of the TSU officers at that time) rogue. Rogue elements. Based on the modus operandi. That was my opinion at the time," Thomas explained.
The ACP made it clear that at the time, there were rogue elements in the TSU who he had no control over. He also noted that he complained about the actions of these officers to his superior at the time, Deputy Commissioner of Police in charge of operations, Maxine Graham.
Testimony has previously been made that various GECOM officials were insistent on clearing Ashmin's building of observers and other stakeholders, particularly Gunraj, during the tabulation process.
In fact, after Thomas left the stand, then American Chamber of Commerce accredited observer Rosalinda Rasul backed up her previous testimony regarding Myers seeking to have the building cleared.
"On the 5th March, 2020, that would have been 6:00 and 7:00 (pm). That was the first incident when she asked persons to leave," Rasul said. However, she admitted to Hughes that Myers had indicated the tabulation process was completed for the day.
Meanwhile, it has been revealed that Gunraj himself will be testifying before the COI on Thursday. According to COI Chairman, retired Justice Stanley John, Hughes will have an opportunity to cross examine witnesses during Thursday's session.
The COI into the March 2020 General and Regional elections is drawing nearer to a close. At the conclusion of the January 10 hearing, the COI Chairman had announced that they would resume on February 6. He had also noted that the COI, which has been ongoing since November of last year, will hopefully wrap up by February 10.
Damning testimonies
While a number of damning testimonies have been given to the COI, a number of key figures have refused to testify. They include former Guyana Elections Commission (GECOM) Data clerk Enrique Livan, former Region Four Returning Officer Clairmont Mingo, former GECOM CEO Keith Lowenfield and former Minister of Health Volda Lawrence.
In addition to Lawrence and former Minister of Foreign Affairs Dr Karen Cummings, the party's Chief Scrutineer Carol Smith-Joseph, who is also facing electoral fraud charges, also opted not to give evidence after being summoned by the Commission.
The same position was adopted by several other GECOM employees who were called to testify before the CoI last December due to pending investigations and criminal charges against them. They cited Article 144 (7) of the Constitution of Guyana, which states: "No person who is tried for a criminal offence shall be compelled to give evidence at the trial." (G3)