…100 homes to be shipped to Barbados
…shingles now 'Made in Guyana' certified
Modular Timber houses constructed by Guyanese-based Duravilla Homes are bringing housing solutions for the region, and are expected to hike the country's export earnings.
Duravilla Homes Guyana Incorporated on Wednesday launched its 1000-plus modular timber project, which has already attracted buyers within the Caribbean Community (Caricom).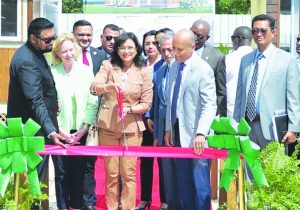 Chief Executive Officer of Duravilla Homes Guyana, Rafeek Khan, current Chairman of the Guyana Manufacturing and Services Association (GMSA), underscored that the housing demand in the region has been growing rapidly, and consequently can lead to Guyana doubling its exports by the end of the year.
Already, the Government of Barbados has put in an order for 100 homes to be shipped. The Governments of St Vincent and the Grenadines and Guyana have already put in orders, while a delegation from Grenada is currently in the country to gauge the prospects of the product.
These houses, when sent to other countries, are built to meet the respective building code regulations, and to withstand disasters such as hurricanes.
"The housing demand in the region, and even right here in Guyana, is a God-sized vision…I think our consumers' tastes have been changing to the building systems in Guyana. I ask that consumers reconsider timber. Timber is not exploited to a point that you don't want to use it. I hear people saying commonly that we're overharvesting timber in Guyana, but less than one percent of our forest is allocated to the production of timber products," Khan expressed.
He noted that exports can double by the end of this year through support from not just Government, but small loggers. Last year, Guyana exported over US$34 million in timber.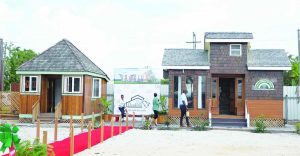 "We could double Guyana's exports by the time we close this year by US$60 million, and I would like to challenge us to do this together… Export is where we need to go to get the better value for the products that we are promoting," he said.
The company can produce one home per day, but is building capacity to construct a minimum of four homes per day.
In her remarks, Minister within the Housing Ministry, Susan Rodrigues, said Government has been directly supporting to bring this project into fruition.
Rodrigues emphasised, "With the Private Sector being the engine of growth, and having these ideas and promoting our locally made products, I assure you that you have that similar support from Government. Use this project as that demonstration of our support for the Private Sector."
Profitability, spinoff
Housing Minister Collin Croal added that the profitability and spinoff of such a project is phenomenal. Government is also moving towards value added, with the thousands of homes being built across the country.
"You will see much more announcements of investments and collaboration for construction of houses, because we want to fast-track home ownership, we want to ensure that we provide value- added. And similarly, this is what Duravilla Homes brings to the people of Guyana," the subject Minister lauded.
Natural Resources Minister Vickram Bharrat shared that this project represents Government's commitment to promoting value-added products and traditional sectors. Despite this thrust in timber products, Guyana sports the lowest deforestation rate.
"It is the traditional productive sectors that create employment that people are trained and geared to work in. The oil industry as we know it is not labour-intensive; it is more capital-technologically- driven. But it is all productive sectors: like mining, like forestry, like the mining manufacturing sector, like tourism, that create employment and generate opportunities for our Private Sector," Minister Bharrat has said.
At the same time, he underscored that lesser-known species of wood should be promoted. "The forestry sector needs to answer the call. We need to work with a small logging association and with the medium and large stakeholders. They agree to increase our production and to promote the use of the lesser-known species."
Addressing the gathering, President Irfaan Ali shared that Duravilla is not only producing a timber home, but one that meets all the international requirements. For instance, the homes are hurricane-proof to support Barbados's building code standards.
"For the first time in Caricom, we brought together an indigenous financial institution, manufacturing organizations and two Governments that bring a solution for housing in Caricom itself," he said.
"Housing is now a major economic sector, creating thousands of jobs and providing incomes for thousands of workers. The housing boom is generating demand for housing products and services…It is adding value for forestry products.
"Another dimension to our housing track is our positioning itself as an export industry," the President told stakeholders.
Made in Guyana
Shingles produced by Durable Wood Products Limited was also on Wednesday certified by the Guyana National Bureau of Standards (GNBS) with the 'Made in Guyana' mark. It is the first locally owned timber company to be granted this certification. Head of Certification Services of the GNBS, Andrea Mendonca, encouraged companies to be guided under such standards, as meeting these requirements creates a higher level of competitiveness among local, regional and international markets.
The shingles are made from hardwood, are durable, and are used internationally. In 2002, the company invested over $150 million to bring these here. Seven years ago, a new product was developed from a $105 million investment.
Natural Resources Minister Vickram Bharrat shared that, through a collaborative partnership, confidence has been restored in the forestry sector, and the country is now able to produce more value-added products.
"We must be proud, as a country, as we continue to grow our manufacturing sector. Because there was a time in our country when we had only exported primary products. And even though we're still working towards moving away from that practice, we have come a long way. With us today, it's a demonstration of us realizing the potential, especially in the forestry sector, of moving towards value-added products," Bharrat relayed.
Additionally, Minister of Tourism, Industry and Commerce, Oneidge Walrond, highlighted that the call for quality from the GNBS has been supported by companies who meet these standards.
"The vision is to have the 'Made in Guyana' mark be synonymous with quality, exceptional quality; to be synonymous with supporting local and our beautiful country. And when you see the 'Made in Guyana' mark, there is no question that you know that this is an exceptional product. And that is our vision," she explained.
Some 50 persons are employed in the shingle operation, 55 percent of which are females. (G12)