The meeting between President David Granger and Dr Rupert Roopnaraine on Wednesday seemed to have borne positive fruit, as the former Education Minister has rescinded his resignation.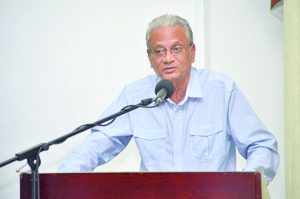 Earlier this week, following a meeting with other Executive Members of the Working People's Alliance (WPA), Dr Roopnaraine submitted his resignation to the Head of State. While details of the reason behind the resignation were not immediately stated, Guyana Times was told that the Minister's failing health was paramount.
On Thursday, Minister of State Joseph Harmon confirmed that Dr Roopnaraine, who was removed from the post of Education Minister and placed within the Ministry of the Presidency, has withdrawn his resignation. Roopnaraine had met with the President on Wednesday and engaged in what was said to be a "fruitful discussion" with respect to his portfolio.
"It was clear after that meeting that Dr Roopnaraine will continue to serve as a Minister of Government, as a Member of Parliament and as a valued member of our Cabinet," Harmon said.
He noted that Dr Roopnaraine's contribution to Guyana and his capacity to continue contributing was dwelt on by the Head of State. With that in mind, Harmon said Roopnaraine has pledged to continue serving, albeit within the Ministry of Public Service.
According to Harmon, Dr Roopnaraine felt that his health situation was making it challenging for him to contribute at the level at which he was expected to. However, President Granger had assured him that he will receive the support he needs to function within his new portfolio.
On Wednesday, news broke that the Minister had tendered his resignation. President Granger immediately confirmed that he did receive a resignation letter from the Working People's Alliance co-leader, but was yet to make a determination, as the former Education Minister could only resign if his letter was approved by the Head of State.
Prior to news of his health failing, there were speculations that the demotion had also influenced Dr Roopnaraine's decision to leave Government.
The WPA had raised concerns that the move by Government was a premature one and the party was never consulted on the matter. It had also asked that Dr Roopnaraine be vindicated, following the results of the 2017 National Grade Six Assessment (NGSA), which showed a stark improvement in the critical areas of Mathematics and English. The President had said that Roopnaraine was re-assigned to lead improvements in the Public Sector.