2019 BCB/Trophy Stall Under- 13 Tournament…
Rose Hall Town Poonai Pharmacy were defeated by Port Mourant in the finals of the Berbice Cricket Board Under-13 one-day cricket tournament in 2018, but they held their nerve on Saturday last to edge Albion in the 2019 Trophy Stall Under-13 finale to emerge victorious.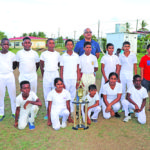 Having won the toss and electing to take first strike, Albion were in trouble at 10 for 3 in the fifth over, as they lost opener Shazid Ali and Nathaniel Chinapen for nought.
Tyrone Hooper also trapped Dian Sital lbw, and skipper Afraz Budhoo (11) and Lalbehari (12) were the only batsmen to reach double figures, as Albion were bowled out for 55 in 24 of their allotted first innings quota of 40 overs.
Bowling for RHT Poonai Pharmacy, off-spinner Deeraj Ramjit took 4 for 4; Khemraj Tika 2 for 8; and Tyron Hooper and Imran Mohammed each took a wicket, for 7 and 13 respectively.
Rose Hall Town Poonai Pharmacy batted out their allotted 40 overs and ended on 68 for 8. Tyrese Smartt batted well to remain unbeaten on 15 not out, while Tyrell Hutson (10), Mario Butcher (09) and Imran Mohammed (08) also contributed to lead their team to the crucial first innings points and their hands on the coveted Trophy Stall Championship.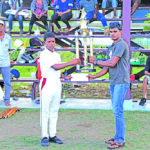 The atmosphere was tense as Butcher joined Smart with Rose Hall requiring two runs for victory at 54 for 8. Smart then flicked Feaz Baksh for two, to spark wild celebration by his team- mates and parents. With a first innings deficit of 13 runs, and with time running out, Albion soon found themselves reeling at 8 for 4, as Khemraj Tika clean bowled Dion Sital, Shazid Ali and Afraz Budhoo for nought; while left-arm medium pacer Tyrone Smartt bowled Nathaniel Chinapen for naught as well.
The promising Devin Lalbehari (23 not out) and Dhanesh Prabhudial 13 not out took the score to 46 for 4 when Albion in an unlikely bid for outright victory declared with six overs remaining in the day's play. Tika ended on 3 for 8 while Smartt and Tyrell Hutson batted out five overs to end on 11 without loss when the game was called off.
BCB President Hilbert Foster described the tournament as a great success, and said that great several promising talents were identified for the future. These players, he stated, will benefit from special coaching sessions early in 2020.
The BCB President urged the attentive Under 13 players to return to their respective clubs from Monday and continue training as the BCB intends to organise cricket tournaments on a regular basis for them. Foster, who will be seeking re-election on December 22nd, also unveiled plans to concentrate on assisting junior cricketers in 2020 on a large scale. In 2018 and 2019, the BCB, with support from the RHTY&SC, MS, had assisted clubs with cricket balls, gears, bicycles, educational materials, stumps, scorebooks; but in the future, only clubs with a youth section would receive assistance.
Trophy Stall Representative Daniel Samaroo hailed the BCB for organizing a successful tournament, and expressed satisfaction at the level of cricket he witnessed at the finals. The Trophy Stall, Samaroo stated, was quite passionate about sports, and would continue to offer support. Devin Lalbehari was named "Man of the finals".
The winner and runner-up both receive trophies and a financial prize. The BCB expresses its gratitude to Ramesh Sunich for his sponsorship of the tournament.