Deputy Chief Elections Officer (DCEO) Roxanne Myers made her first appearance at the Georgetown Magistrates' Courts on Friday morning in relation to charges of misconduct in public office filed against her.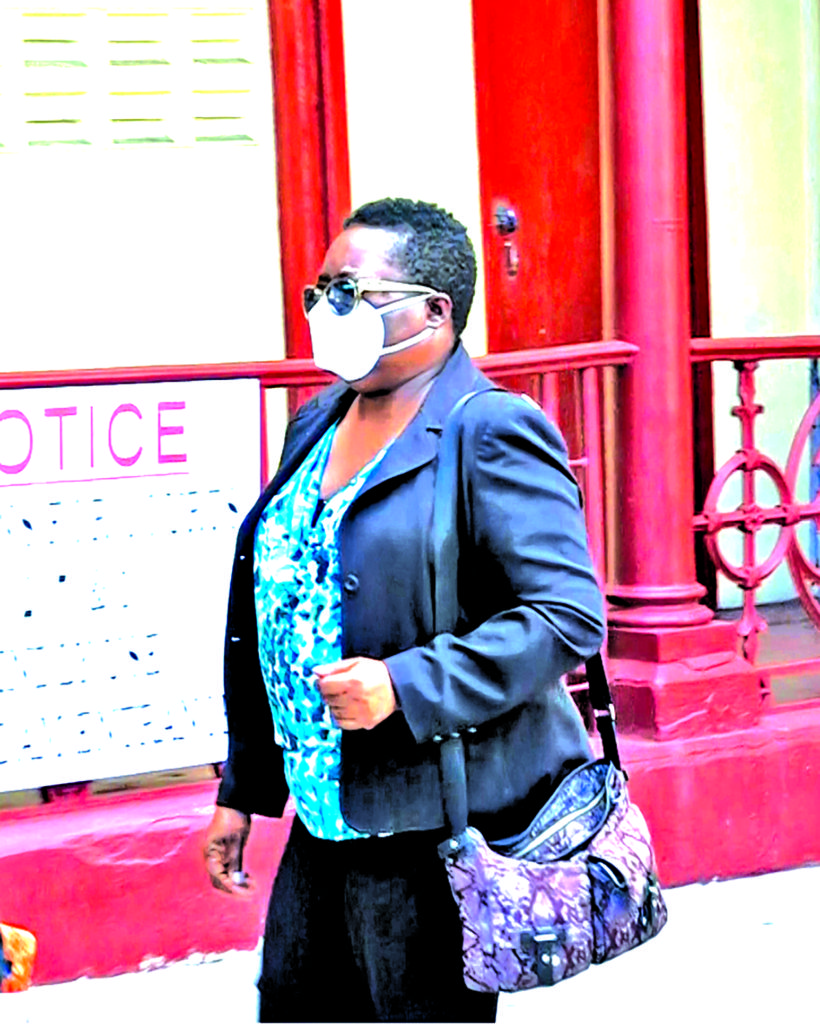 Represented by Attorney-at-Law Ronald Daniels, she was slapped with two counts of misconduct in public office. Myers was not required to plead to the indictable charge, which stated that she wilfully misconducted herself in declaring fraudulent results from the March 2 General and Regional Elections, between the period of March 4 and 14, 2020.
She was placed on $150,000 for each charge, amounting to $300,000.
After exiting the courtroom, Daniels told media operatives that the prosecution will return in two weeks to deliver the status of their investigation.
Myers was arrested on Tuesday last after she surrendered at the Criminal Investigation Department (CID) Headquarters, moments before the Police Force issued a wanted bulletin for her arrest. The police had said ranks had been trying for over a month to question the DCEO in relation to its ongoing probe of electoral fraud following the March 2 polls. However, she exercised her right to remain silent.
In August, the police said they were launching a probe after formal reports were received alleging criminal conduct by Chief Elections Officer (CEO) Keith Lowenfield and embattled Region Four (Demerara-Mahaica) Returning Officer Clairmont Mingo, as well as others, in relation to the elections and the events that followed thereafter.
During the 2020 elections, repeated attempts were made to alter the results of the election in favour of the APNU/AFC coalition, even though the PPP was the clear winner.
Following an almost flawless polling day, the tabulation of the results for Region Four – Guyana's largest voting District – became a matter of controversy after Mingo declared unverified results for the region.
The declaration made by Mingo, which was subsequently set aside by Chief Justice Roxane George, was signed by Volda Lawrence – the lone representative of the political parties that contested the elections. The other parties had objected to the declaration after the verification process was not fully complied with by the RO. Even the election observation missions had rejected the declaration, saying that the results lacked credibility and transparency.
It was Mingo's attempts to alter the results of the elections that led to the National Recount, which ultimately proved the major differences in the figures being called by the RO and those representing the actual numbers of votes cast.
The 33-day recount exercise, agreed to by then President David Granger and then Opposition Leader Bharrat Jagdeo, confirmed that the PPP/C won with 233,336 votes.
Lowenfield had repeatedly refused to submit his final elections report with those figures despite being so directed by the GECOM Chair on several occasions. He eventually complied, paving the way for the declaration and subsequent swearing-in of the new Government on August 2, 2020 – five months after elections were held.
Already, several staff members of the Elections Commission have been hauled in for questioning, with three of them being placed before the court on fraud charges. These include Registration Officer Sheffern February and Information Technology (IT) officer Enrique Livan.
The three were charged in August at the Georgetown Magistrates' Courts, and placed on bail.
Meanwhile, the two other GECOM staffers who were also taken in for questioning are Carolyn Duncan and Michelle Miller – both Registration Officers. So far, no charges have been instituted against them. Personal Assistant to the CEO, Duarte Hetsberger is also among the list of GECOM officials who have been under scrutiny.
Meanwhile, Myers will return to court on October 23. (G12)