– mother says "somebody wanted him out"
The most immense hurt any mother can experience is that of losing a child in the cruelest way possible.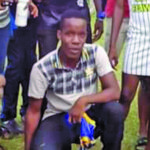 Such are the emotions of Jennifer Benn, after learning that her son, 28-year-old Seon Anthony Burry, also called "Cenestro", was found dead with multiple stab wounds to the neck and throat on Tuesday morning.
Burry's lifeless body was found at D'Urban Park, about 05:45h after he left his Lot 194 Section A, Field 7, South Sophia, Greater Georgetown home to train athletes at 03:30h.
He was a Rural Constable (RC) attached to the Police Force Sports Club.
His mother, who was able to view the injuries on her son's body, told Guyana Times that it was her belief that someone may have wanted him dead, claiming that the young man was attacked and killed by more than one person.
"That is murder; somebody wanted him out. All the injuries that he got, wah I see on his hand was he defending himself trying to block, and it had to be more than one person. No one person couldn't take him down so," Benn added.
The grieving mother said it was somewhat normal for Burry not to return home after training sessions, but, according to her, he was no troublemaker.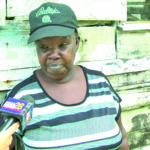 "According to them children, he didn't come in last night, so I don't know if that what happen to him happen late last night or early this morning, because some nights he wouldn't come in … when he left, I wouldn't have been at home, I would've been at work," the distressed mother noted.
Burry's mother is pleading for justice as she called on the Police to act swiftly.
The father of one was described as the kindest person one could know, "That's one of the kindest persons you would've ever wanted to know; he don't deh in story, all his interest was running … Yes! I want justice, everybody know that he doesn't deh in story, he doesn't trouble nobody. When he left this house here is because he going and train people children," the mother added.
Burry, who was enlisted as an RC in the Force on July 17, 2015 leaves to mourn his mother, a child, and siblings.
His body was taken to the Georgetown Public Hospital mortuary to await a post-mortem as Police investigations are ongoing. (Leah Hernandes)