The Ryan Crawford Memorial Turf Club and Sports Facility at Alness Village on the Corentyne Coast in East Berbice will be hosting one of its many horse racing meets on July 1, 2019.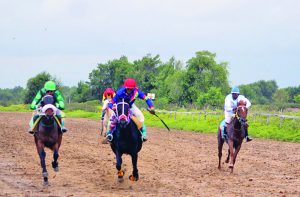 With several entries already confirmed for the card, which consists of six categories, the day promises to be an exciting one.
Feature event of the meet is the 3-Year-Old races set to be run for a distance of 1300 metres. A winning purse of $240,000 and trophy is being competed for.
Other events listed on the card would see the for J and Lower horses racing over a distance of 1000 metres for a first prize of $200,000 and trophy. The race for 2-Year-Old horses, to be run over 900 metres, would carry a winning prize of $150,000 and trophy. There is an event for horses classified L1 and Lower, to be run over 1000 metres for the package of $100,000 and trophy. The L2 and Lower race, which is to be run over 1000 metres, would reward the winner with $80,000; and the L3 Unclassified animals would be competing for a top prize of $60,000, duking it out in their 1200-metre journey.
The races will be run under the rules of the legislative draft of the late Marcel Crawford. All bookings must be done with a deposit of $5000, if there are less than five horses in a race the prize will be reduced.
All entries close on June 28. For further information, persons can contact Marcel Crawford Jr on 678-5342 or 600-7690.
Individual trophies and other incentives will be given to riders who have performed exceptionally well.
NB: Celso Crawford is hence forth banned from the race track due to disorderly conduct.