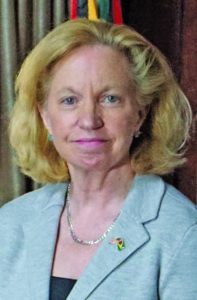 US Ambassador to Guyana, Sarah-Ann Lynch has called for the Berbice Chamber of Commerce and Development Association to ensure the success of its sovereign wealth fund known as the Natural Resource Fund (NRF) as Guyana prepares for first oil in 2020.
Ambassador Lynch issued the call at the Berbice Chamber of Commerce and Development Association's 87th annual luncheon on Wednesday in New Amsterdam, Berbice.
Ambassador Lynch noted that the Chamber of Commerce needed to embrace its role in engaging with stakeholders and lobbying for expertise as well as information sharing and transparency as Guyana developed its lucrative petroleum industry.
She says the Chamber can also play a role in ensuring that the NRF is properly managed and that Guyanese benefit significantly.
"As you are aware, Guyana recently accomplished a major milestone of its own, by establishing the Natural Resource Fund , this is also known as a sovereign wealth fund which was set up to invest revenues from oil and gas and other natural resources, in order to protect and boost the national economy," the Ambassador said.
She added that if implemented immediately and efficiently, it should provide Guyana with the opportunity to invest in long-term future as well as today's infrastructure, health, education, security and even agriculture.
"I must congratulate the people of Guyana for taking this important step and doing so before first oil production and before all profits begin rolling in next year."
Worldwide, it is estimated that US$2 trillion to US$3 trillion are under the control of sovereign wealth funds.
"Even though management of the wealth fund is primarily a public sector responsibility, its operation on success is heavily dependent on the productive sector partnering in administration and oversight of the plan," the diplomat highlighted.
She noted that studies have shown that the most effective sovereign wealth funds are independent, transparent, inviolable and nonpartisan.
"I keep telling people that this is an exciting time to be in Guyana; it's also a critical time for Guyana's future. That future starts now and I look forward to the Berbice Chamber of Commerce and Development Association and other Private Sector agents playing a vibrant role in modelling it by creating a robust framework in implement the Fund and manage the risk associated with it," the Ambassador added.
Moreover, Regional Chairman David Armogan called on businesses to take advantage of opportunities in the sector.
"We have seen in our Region that certain parts of the sugar industry were closed. The rice industry has not been doing so well. Today, we are seeing the repercussions of that. We have seen the businesses have suffered some form of decline in sales hence affecting your ability to employ persons," Armogan said.
The Chairman acknowledged that times have changed, adding that difficult circumstances called for new approaches.
"We have to be innovative in our ways and utilise this difficult period to come up with new challenges and new projects. Already we are seeing companies from abroad coming here to pick up the challenges that we ourselves should be taking up."
Meanwhile, Chamber President Errol Azar told the gathering that persons throughout the region have been feeling the harsh reality of the closure of the sugar estates in Region Six (East Berbice-Corentyne).
In December 2017, Government closed both the Rose Hall and Skeldon Sugar Estates. However, despite that, Azar said there was some good news and indicated it was not just good news for the business community.
He explained that Government making arrangements to sell the Rose Hall and Skeldon Sugar Estates meant there was interest from investors.
"They are finalising the agreement… one of the stipulations is that sugar must be maintained at the estate so the people will be able to get back their jobs."
The Chamber President also spoke about plans to develop a deepwater harbour in Region Six and also plans to have the Berbice Mining Enterprise Factory at Everton resuscitated as a mining company has already purchased the facility and is making arrangements to have it operational soon.