…says "wrong behaviour" warrants consequences
By Devina Samaroo
The United Kingdom Government is likely to still impose sanctions against individuals in Guyana who attempted to undermine democracy and frustrate the will of the people at its March 2 General and Regional Elections.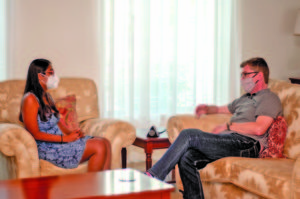 Though the controversial five-month-long electoral process has finally come to an end, certain individuals remain at risk of being slapped with sanctions.
During an interview with Guyana Times on Wednesday, British High Commissioner to Guyana, Greg Quinn explained that "wrong behaviour" cannot go unpunished.
"There is still a process and discussion, and, they're [sanctions] certainly not off the table. There's a discussion going on in London as it relates to what happens next," the UK diplomat revealed when questioned about whether his Government will still be moving ahead with sanctions against officials in Guyana.
In July, UK's Foreign Secretary Dominic Raab had warned that "any Government sworn in on the basis of non-credible results will face strong international condemnation and consequences – we have started the process of putting those consequences in place".
Though it was too premature to determine, Quinn reasoned that if sanctions are to be imposed, it would focus more on "the individuals as opposed to the country".
"There's a fundamental message here, which is, wrong behaviour has to have consequences…If wrong behaviour has happened, then people have to understand that they can't do something wrong and get away with it," Ambassador Quinn affirmed.
The United States Government has already imposed visa restrictions against individuals in Guyana who attempted to undermine democracy. The sanctions were imposed following repeated warnings by top US officials, including Secretary of State Mike Pompeo who had made a direct call to the then President David Granger to accept electoral defeat.
Reconciliation and compromise
With a legitimate Government finally installed, Ambassador Quinn urged those in authority to begin a process of reconciliation, in addition to embarking on electoral and constitutional reforms.
President Dr Irfaan Ali had announced plans to launch a forensic review into the events that unfolded in the past five months with a view holding "accountable any persons who sought to pervert and corrupt the system".
While acknowledging the new Government's intentions, the UK diplomat urged that such an initiative "feeds into a reform process" with a fundamental goal being to identify areas which need to be addressed so that what happened in this year's election does not occur in 2025.
But when asked how can reconciliation take place with a group of persons who, as recognised by international bodies, attempted to commit electoral fraud and undermine democracy, Ambassador Quinn expressed that "compromise" is needed.
Accepting that reconciliation is a "very emotional and difficult issue", the British envoy explained that "the fundamental thing has to be that people need to understand that ultimately, coming together and reconciling is better for the greater good of everybody."
"And sometimes in order to achieve that, you have to compromise and you have to accept that some people did things that they should not necessarily have done," Ambassador Quinn noted.
Further, he said during the process of reconciliation, it is important to explain to the oftentimes aggrieved populace why such a process is required and the benefits that could come out of reconciling.
He referenced the situation in Northern Ireland – his hometown – which had a checkered past marred by division, but is now more unified because of a reconciliation process. Ambassador Quinn explained that while many citizens were not initially on board with the idea, residents today are grateful for the benefits of that reconciliation process.
In addition to reconciliation, he urged that the new Government put on the front burner, issues of electoral and constitutional reforms.
Pointing out that these were matters he has been advocating for since his arrival in Guyana five years ago, Ambassador Quinn made it clear that reforms are needed to protect the country from suffering through another protracted electoral process.
"I'd like to encourage, as much as possible, moving forward in this five-year period …that we [see] some real movement on reform and reconciliation," he expressed.
Principles of democracy
Reflecting on Guyana's electoral crisis, the UK Ambassador noted that in all his 25 years as a diplomat, he has never seen such a post-election process as what unfolded here. And according to him, the events are certainly not healthy for the country.
"Five months is far too long, [it is] not good for the country politically, socially, economically," he stated.
The envoy recalled the moment at the tabulation centre for the country's largest electoral district, Region Four (Demerara-Mahaica) where the Returning Officer Clairmont Mingo started to call numbers from a spreadsheet that did not correspond with the figures on the official Statements of Poll (SoPs).
"Clearly what the Returning Officer was doing was simply not credible. We said that, the Commonwealth said that, all the international community said that…fundamentally what the Returning Officer was attempting to…was not credible and we all saw that," Ambassador Quinn posited.
Moreover, he questioned the appropriateness of the then caretaker Minister of Foreign Affairs, Dr Karen Cummings, showing up at the location, in her capacity as a Government Minister, to threaten international observers.
Ambassador Quinn noted that while it is legitimate for political party agents to be there, it was not appropriate for the Minister to be there in that capacity.
According to the British diplomat, the late Owen Arthur – who was the Head of the Commonwealth Electoral Observer Mission in Guyana – had "put things in a far better way to her [the Minister] than any the rest of us could have done."
Arthur had stood his ground against the threats issued by Dr Cummings, stating that "I speak on behalf of the Commonwealth, the largest organisation of people in the world, and I am not going to have, not me, the Commonwealth disrespected by a threat to take away the accreditation."
The former Bajan Prime Minister passed away on July 27.
The UK Government was one of many international organisations that had been very vocal against the threats to Guyana's democracy and had repeatedly urged leaders to do the right thing, to avoid isolating the country from the rest of the world.
Ambassador Quinn rejected claims that the UK Government's positions were tantamount to foreign interference.
He explained that every statement the UK Government has made is in line with principles of democracy, good governance and the rule of law.
In fact, the UK diplomat pointed out that what he said in 2020 is no different from his comments during the 2015 election in Guyana.